If you like ice cream containing a mixture of chocolate, pistachio and cherry flavors, you'll love these cupcakes. The cupcakes are chocolate, the filling is pistachio whipped cream and the frosting is cherry buttercream. Spumoni, indeed.
Spumoni cupcakes
Makes about 24
Ingredients: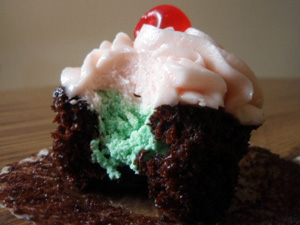 Chocolate cupcakes:
3/4 cup unsweetened cocoa powder
1-1/2 cups all-purpose flour
1-1/2 cups granulated sugar
1-1/2 teaspoons baking soda
3/4 teaspoon baking powder
3/4 teaspoon salt
2 large eggs
3/4 cup warm water
3/4 cup buttermilk
3 tablespoons vegetable oil
1 teaspoon vanilla extract
Pistachio cream filling:
1 cup heavy whipping cream
2 tablespoons granulated sugar
1 teaspoon pistachio flavoring
Green food coloring, optional
Cherry buttercream frosting:
1/2 cup butter, room temperature
2-3 cups powdered sugar, sifted
1/4 cup cherry pie filling
24 maraschino cherries
Directions:
Preheat your oven to 350 degrees F. Line standard muffin tins with paper liners. Set aside.
Sift together the cocoa powder, flour, sugar, baking soda, baking powder and salt into a large bowl.
Add the eggs, warm water, buttermilk, oil and vanilla. Mix until smooth, about 3 minutes.
Scrape down the sides and bottom of the bowl to assure batter is well mixed.
Divide the batter evenly among the prepared cups, filling each 2/3 full.
Bake until the tops spring back when touched, about 20 minutes, rotating pan once, if needed. Transfer to a wire rack. Let cool completely.
To make the filling, simply whip the cream and sugar until stiff, then blend in the pistachio flavoring.
Add in a few drops of green food coloring, if desired.
To make the frosting, beat the butter with an electric mixer for a few minutes.
Add the pie filling and briefly blend.
Add the powdered sugar gradually, until the frosting is thick enough to spread easily.
To fill the cupcakes, carve out a cone-shaped hole and squirt the pistachio whipped cream inside.
Apply the frosting generously to the cupcakes, top each with a maraschino cherry, and, after giving the components a few minutes to get to know each other, devour.
More pistachio treats
Cherry-pistachio salad
Creamy pistachio gelato
Spumoni biscotti