There's really no better all American breakfast than a delicious donut with coffee. However, traditionally prepared donuts are loaded with sugar and deep fried in oil, which can give some of them almost as many calories as a Big Mac! To still satisfy your donut craving and start your day in the healthy direction, whip up these zesty, tart and sweet, orange cranberry donuts!
Orange cranberry donuts
Yields about 12 donuts
Recipe adapted from Lauren's Latest
What make these donuts much healthier than the original is that they are made with whole-wheat flour, baked instead of fried and made with half applesauce in place of butter. The tartness of the cranberries pairs perfectly with the citrus flavor of the orange glaze. You'll have trouble eating just one! (We know this from experience!)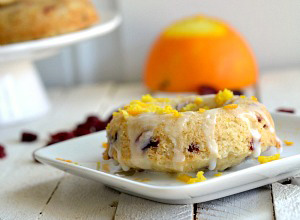 Ingredients: 
For the donuts:
2 eggs
3/4 cup sugar
1/4 cup brown sugar
1/4 cup butter
1/4 cup unsweetened applesauce
3/4 cup whole wheat flour
3/4 cup all-purpose flour
1-1/4 teaspoons baking powder
1-1/2 tablespoons pumpkin pie seasoning
1/2 cup light cream
1/2 cup chopped cranberries (fresh or dried)
2 tablespoons orange zest
Dash of salt
For the glaze: 
1 cup powdered sugar
2 tablespoons milk
1 tablespoon orange juice
Fresh orange zest
Chopped dried cranberries
Directions: 
Preheat your oven to 350 degrees F. Grease a donut pan with nonstick cooking spray. Set aside.
In a large bowl, mix together the flours, baking powder, pumpkin pie seasoning and dash of salt. In another bowl, beat the butter, applesauce, sugars and eggs together. Add the flour mixture and cream to the sugar mixture, alternating between additions, ending with the flour. Mix until the batter is creamy. Stir in the cranberries and orange zest.
Fill the donut cavities about 1/2 the way full with batter. Bake for about 12 minutes, or until golden brown. Let cool for 2 - 3 minutes.
Meanwhile, prepare the glaze by mixing the powdered sugar, milk and orange juice together. Using a spoon, drizzle the glaze over the donuts and sprinkle with orange zest and chopped cranberries. Enjoy!
More donut recipes
Homemade chocolate donuts
Homemade doughnut recipes
Whole-wheat cinnamon sugar donut hole recipe