Love ordering cheesy, gooey spinach dip as an appetizer? Why not turn your love for this fabulous dip into a main course by pairing it with your favorite stovetop mac and cheese recipe? Gooey mozzarella, white Champagne and Parmesan cheese, paired with spinach and macaroni noodles -- turn this mouth-watering dish into something you'll make again and again.
You really can't go wrong with spinach, three kinds of cheese and macaroni, are we right? This is the perfect dinner for those busy weeknights or for those upcoming tailgates! You can also sub out some of the spinach for artichokes too if you'd like spinach and artichoke mac and cheese!
Stovetop spinach dip mac and cheese
Recipe adapted from Martha Stewart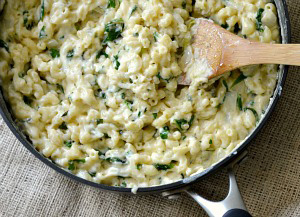 Serves about 6
Ingredients:
3 tablespoons unsalted butter
1/2 medium onion, diced
3 cloves garlic, minced
1/3 cup all-purpose flour
2 cups 2 percent milk
2 cups light cream
12 ounces whole wheat macaroni noodles
22 ounces fresh spinach, chopped
1 cup shredded mozzarella
1 cup grated Champagne white cheddar cheese
1/4 cup Parmesan cheese
Dash of salt and pepper
Directions: 
Cook pasta according to package directions. Rinse and set aside.
Melt the butter in a large saucepan over medium-high heat. Add the onions and cook until just soft, or about 2 minutes. Add in the garlic and cook another 3 minutes. Stir in the flour until a thick roux forms. Reduce the heat to medium and whisk in 2 cups of milk. Add in the remaining 2 cups of cream, whisking constantly. Increase the heat and bring the mixture to a boil, about 8 minutes. Sauce should be pretty thick.
Liberally garnish the sauce with salt and pepper. Reduce the heat to low and stir in the cheese, spinach and additional salt and pepper. Stir until the mixture is fully combined and thick. Stir in the macaroni noodles. Serve warm and enjoy!
More macaroni recipes
Creamy BLT pasta salad recipe
Baked pumpkin mac and cheese
Cheeseburger macaroni casserole recipe