One of the first things a dinner guest sees when he or she sits down at the table is the place setting, and one part that often gets overlooked is the napkin holder. This small piece of decor can say so much about the host or hostess and really set the mood for the dinner party. Here are 10 unique napkin holders to provide some ideas.
Have fun with your napkin holder with this mustache-shaped creation from Etsy. Tom Selleck fans will be particularly enamored.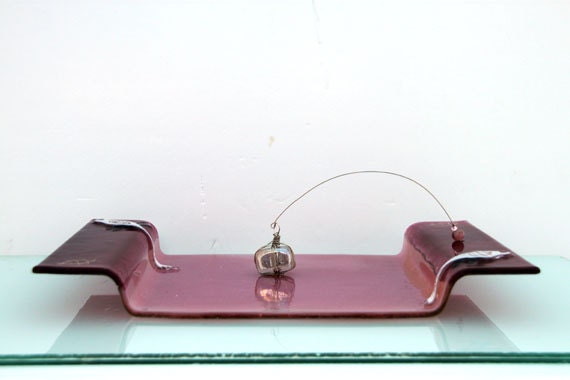 Also from Etsy is this fused glass pink napkin holder. The weighted knob and wire adjust easily to accommodate many napkins of varying sizes. Alternatively, it would make a fabulous cat's toy.
Speaking of cats, Meow Store offers a different kind of look for people who enjoy felines as well as artistic flair with this napkin holder made from recycled metal and marbles. Meow, indeed.
Another animal option is this squirrel-shaped napkin holder from Amish Workshops, complete with acorn in paw. The wood used is sturdy, attractive, resilient maple. For those who don't have the good fortune of watching squirrels frolic outside their window, this is an acceptable alternative.
The Amish provide another unique napkin holder built into this Lazy Susan with a heart-shaped holder. Its functions are many, its look is clean and homey, and it might even come in handy on card night!
One more wooden option is this napkin holder in the shape of a teapot. It's made from hardwood, is extremely vibrant and colorful, and comes complete with salt and pepper shakers. Each piece is handcrafted, so purchasing one of these means you'll be getting something truly one of a kind!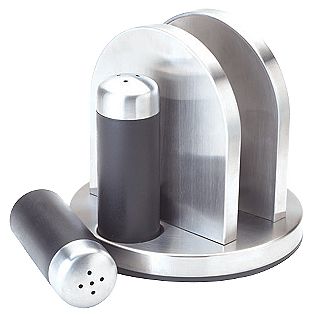 Another napkin holder incorporating salt and pepper shakers is this Kamenstein Napkin Holder. It has a sleek and stylish look that should fit into just about any motif.
The Country Porch provides this iron cocktail napkin holder. The weight is in the shape of a pine cone and the lever and sides resemble pine boughs. How perfect for a log cabin home!
This Wrought Iron Coffee Cup napkin holder from Timeless Wrought Iron should please any and all fans of the beloved caffeinated beverage. It's both durable and sophisticated, and it might even appeal to tea drinkers!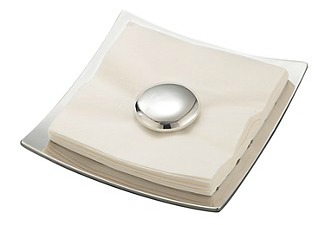 Finally, this is a most simple yet elegant napkin holder by Nambe in which a smooth stone sits atop the pile of napkins that are cradled in a slightly curved dish. This holder could gracefully adorn any table.
Whatever your tastes, there's a napkin holder out there for you!
More tools for the entertainer
Functional and stylish modern kitchen cover-ups
Tools of the entertaining trade
Etsy roundup: Fabulous aprons