Is your favorite pie of all time the tangy and sweet key lime? If so, you're going to love this ice cream. It has that same luscious, citrusy and creamy flavor you get from the pie in ice cream form! Serve this with sprinkles of crushed graham cracker for an incredibly new way to enjoy this dessert favorite!
Key lime pie ice cream
Yields about 6 (3/4 cup) servings
Recipe adapted from Cooking Light
If it's too hot to bake the pie, this is the perfect alterative! Sweet, tangy and no cooking required -- what's not to love? If you want to give your ice cream that green tint, add a few drops of food coloring. We prefer ours all natural with a zesty flavor!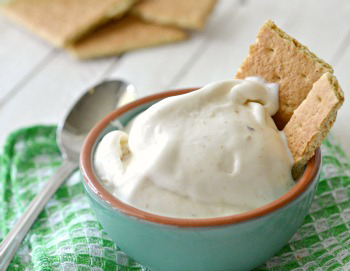 Ingredients: 
1 cup 1 percent milk
1 cup light cream
1/2 cup key lime juice
14 ounces sweet condensed milk
2 tablespoons sugar
1 tablespoon lime zest
About 1/2 cup graham cracker crumbs
Whipped cream for garnish
Directions: 
In a large mixing bowl, mix the milk, light cream, lime juice, condensed milk and lime zest. Whisk until it is fully combined. Whisk in the sugar. Cover with plastic wrap and chill for at least an hour.
Once the mixture has chilled, pour it into the freezer container of an ice cream machine. Turn on and let it stir about 10 minutes. Pour about 1/4 cup of the graham crackers into the mixture and let it stir another 10 - 15 minutes, or until thick and creamy.
Serve immediately with extra graham cracker and whipped cream or store in a freezer for up to 3 weeks.
More ice cream recipes
Vegan cake batter ice cream recipe
3 Homemade ice cream recipes
Inspired ice cream dessert recipes