Are you cookie dough obsessed? Do you find yourself scooping handfuls of raw cookie dough into your mouth as you place them on a sheet to bake? Is your favorite flavor of ice cream chocolate chip cookie dough? If you answered yes to these questions, this cake is for you. Decadent cookie dough (minus the raw egg) is spread between mini layers of fluffy, Devil's food cake and then frosted with homemade buttercream. Yum!
Mini cookie dough layered cake
Yields about 8 cakes
Recipe adapted from Crazy for Crust
What makes this dessert even more desirable is the fact it's served in miniature form! Instead of putting together a giant cake and fussing with all the clean up, you can whip up eight mini cakes instead. These bite-size cakes are the perfect bridal or baby shower dessert (or birthday party snack), since everyone will feel like they are getting their own, personal dessert!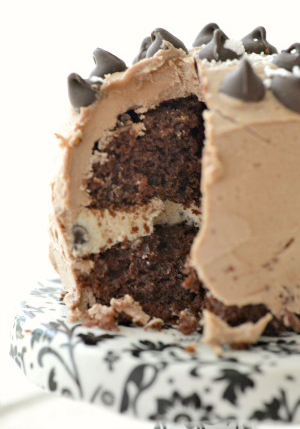 Ingredients: 
For the cake: 
Betty Crocker Devil's food cake mix
3 eggs
1 cup water
1/2 cup vegetable oil
For the cookie dough filling:
1 cup vanilla frosting
1 stick butter
1/2 cup brown sugar
2 tablespoons light cream
1/4 cup white sugar
1 teaspoon pure vanilla extract
1-1/2 cups all-purpose flour
Dash of salt
1 cup chocolate chips
For the frosting: 
6 tablespoons butter
2-2/3 cups powdered sugar
1/2 cup unsweetened cocoa powder
1 teaspoon vanilla
1/3 cup milk
Directions: 
To make the cake: Preheat the oven to 350 degrees F. Grease two (9-inch) round cake pans with non-stick cooking spray and set them aside.
In a large bowl, mix the cake mix, vegetable oil, eggs and water until it is smooth. Pour the mixture evenly into each cake pan and bake for 22 minutes, or until a toothpick inserted comes out dry. Let the cakes cook completely.
While the cakes cool, prepare the filling by mixing in the melted butter, brown sugar and white sugar together until combined. Slowly add the flour, milk and vanilla. Gradually add the frosting, 1/2 cup at a time until the mixture is thick. Stir in the chocolate chips.
Once the cakes have cooled, stamp out 3-inch layers using a round cookie cutter. Spread about 1 tablespoon or so of the chocolate chip filling over a cake layer. Place another layer on top. Repeat until you're happy with the number of layers for each cake. Put the layered cakes in the fridge to cool for at least 20 minutes.
While the cakes cool again, prepare the frosting by beating the butter, powdered sugar, cocoa powder and vanilla together with an electric mixer. Gradually stir in the milk until you have reached the desired consistency.
When the cakes have finished cooling, frost with the chocolate frosting and serve them immediately or chill again.
More cookie dough recipes
Chocolate chip cookie dough truffle cupcakes
Chocolate chip cookie dough cheesecake recipe
Cookie dough pizza recipe