You can't have the 4th of July without a great party and you can't have a party without cocktails -- so grab your favorite bottle of vodka or gin and get crafting in the kitchen with these recipes! Each of these patriotic and festive cocktails is refreshing enough to cool you down from the hot July heat and boozy enough to give you a little buzz when watching the fireworks.
Boozy popsicles, spiked raspberry lemonade and festive bomb Jell-O shots are the perfect cocktail choices for your 4th of July celebration. Just don't have too many, you don't want to miss the fireworks!
Spiked raspberry lemonade
Yields about 3 cups
Ingredients: 
6 ounces fresh lemon juice
2 to 3 tablespoons sugar
1/2 (750 milliliters) bottle sparkling water
1/4 pint fresh raspberries
1/4 pint fresh blueberries
1/4 cup gin
Directions:
Mix the lemon juice and sugar together until the sugar dissolves. Stir in the gin. Add the sparkling water just before serving (so the drink is bubbly) and add fresh raspberries and blueberries to each glass. Enjoy!
Festive bomb Jell-O shots
Recipe and photo provided by That's So Michelle.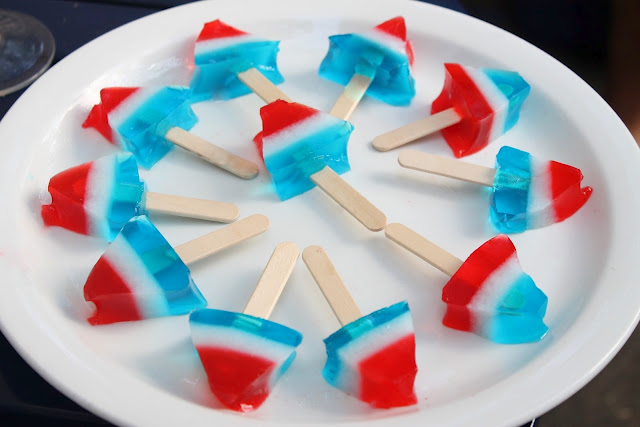 Ingredients: 
Blue layer: 
1 regular sized box blue raspberry Jell-O
2/3 cup cold water
2/3 cup cotton candy flavored vodka
Wooden popsicle sticks
White layer: 
1/2 cup coconut or regular milk
2 tablespoons sugar
1 packet Knox Gelatin
1/2 cup cotton candy flavored vodka
Red layer: 
1 regular sized box cherry Jell-O
2/3 cup cold water
2/3 cup cotton candy flavored vodka
Directions: 
To make the blue layer: Boil the 2/3 cup of water and then add the Jell-O packet. When it has all dissolved, add it to the 2/3 cup of vodka. Pour the blue Jell-O mixture into a lightly greased loaf pan and refrigerate until it's solid, about 30-45 minutes. Each layer has to be solid before mixing.
To make the white layer: Pour the milk into a medium size sauce pan. Sprinkle the gelatin packet on top and let it sit for a minute. After it sits, stir and break up the gelatin. Turn the heat to medium and cook until the gelatin dissolves into the milk. Add the sugar and stir until it dissolves. Add in the vodka and remove it from the heat. Once the Jell-O mixture has cooled down a bit,  pour it on top of the hardened blue layer. Do not pour the next red layer on top until the white layer is solid.
To prepare the top red layer: Boil the 2/3 cup of water and then add in the red Jell-O packet. When all of the Jell-O has dissolved, add in the vodka. Pour all of your red Jell-O mixture on top of the white layer and refrigerate it overnight.
To slice, let your loaf pan sit in a small puddle of warm water to loosen up the Jell-O then flip over the loaf pan onto a cutting board. If the Jell-O doesn't come out (and you want it to come out whole), run a butter knife around the edges of the loaf pan before you flip. Slice pieces off of the Jell-O as if you were cutting slices of bread. Make triangles with the blue layer at the bottom using a triangle cookie cutter. Spray your serving tray with some baking or cooking oil. Stick your Popsicle sticks into the bottom (blue layer) of the Jell-O shot until it is secure and keep refrigerated until serving! Enjoy!
Slim berry pop
Serves 2
Recipe and photo provided by Voli Vodka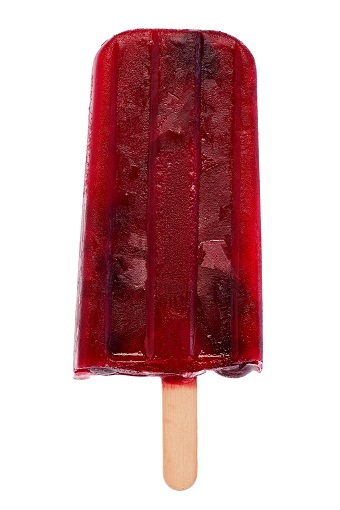 Ingredients: 
1.5 ounces Voli Lyte
12 blueberries
5 raspberries
4 strawberries
2.5 ounces Master of Mixers Sweet and Sour Lite
1 ounce water
Directions: 
Muddle the blueberries, strawberries and raspberries in a tin.
Add the Voli, Sweet and Sour, water and shake.
Pour into 2 Popsicle containers and freeze.
More summer cocktail recipes
Slimming cocktail recipes
Environmentally inspired Earth Day cocktail recipes
Refreshing Memorial Day cocktail recipes