Summertime is all about eating fresh, eating healthy and eating recipes that require as little prep as possible. Who wants to spend a 95 degree day sweating over the oven? If your sweets craving is on overdrive, skip the dense brownies or cookies. Instead, whip up one of these light, refreshing and low-calorie fruit desserts. Oh, and did we mention they are all spiked with booze?
Boozy desserts are all the rage in the food world because they combine two things we love, cocktails and dessert! These recipes add another thing we love, low-calorie fare, into the equation!
Strawberry lemon tequila pops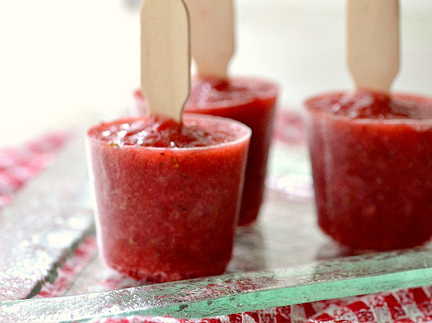 Yields 6 pops
Ingredients:
3-1/2 cups sliced strawberries
Zest from 1 lemon
1/4 to 1/3 cup lemon juice (fresh squeezed)
1/3 cup tequila (we used Silver Patrón)
6 Dixie cups
6 Wooden ice cream spoons
Directions: 
Place the strawberries, lemon zest, lemon juice and tequila into a food processor. Pulse until smooth. Carefully pour the mixture into the Dixie cups, stopping at about 3/4 the way full. Freeze for another 3 to 4 hours or until set.
Serve immediately and enjoy!
Boozy pineapple upside down cake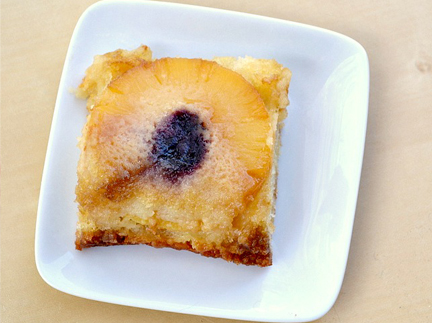 Serves about 6
Ingredients: 
1/4 cup melted butter
2/3 cup packed dark brown sugar
6 pieces sliced pineapple
1-1/4 cups flour
1/2 cup brown sugar
6 maraschino cherries
1/2 cup white sugar
1/3 cup softened butter
1-1/2 teaspoons baking powder
1/2 cup spiced rum
1/4 cup skim milk
1 egg, lightly beaten
Salt
For the directions on how to make this delicious cake, check out the recipe here on SheKnows >>
Orange vanilla vodka sorbet
Yields about 3 cups.
Recipe adapted from Cooking Light.
Ingredients: 
1 cup water
1/2 cup sugar
Orange zest from 1 orange
1-1/3 cup fresh orange juice
1 tablespoon lemon juice
1/4 cup Voli orange vanilla light vodka
Directions: 
Combine the water and sugar in a small saucepan. Bring to a rapid boil and add the orange zest. Reduce the heat to a simmer and let it simmer for about 5 minutes. Remove the liquid from the heat and pour through a mesh strainer to get rid of the zest pieces. Let the mixture cool slightly and stir in the lemon juice, vodka and orange juice.
Place the mixture in the fridge for at least 1 hour.
Once the sorbet has cooled, place it into a freezer bowl of an ice cream maker. Let it stir for 20 minutes or so, or until the mixture has thickened. Place the freezer bowl into the freezer and let it chill for another hour.
Serve immediately and enjoy!
More boozy recipes
Strawberry margarita cocktail popsicle
Boozy bacon recipes
Light tequila dessert recipes