Every now and then, it's okay to splurge on a greasy slice of pizza. However, if you're like me, you don't crave pizza just every now and then -- it's a constant craving that goes wild if not satisfied. Instead of gorging on take out pizza filled with grease (and no longer fitting into any of your clothes) enjoy your pizza daily without any guilt or regret with this recipe. Made on zucchini slices and topped with just a bit of cheese, these bite-size, gluten-free snacks are a healthier way to enjoy your pizza.
Mini zucchini pizzas
Serves about 4
These little pizzas make perfect party appetizers and snacks as well as a great appetizer for a dinner party. All you need are five ingredients (plus more for your own taste) to make these perfect, bite-size pizzas. Now you can have your pizza and still fit into those tight colored skinny jeans.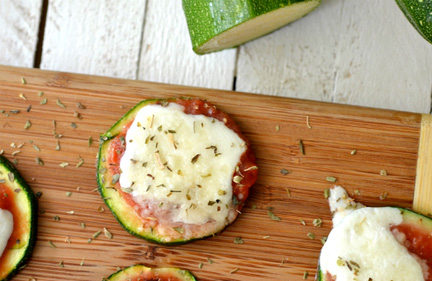 Ingredients: 
2 zucchinis
1/4 cup Parmesan
1/4 cup sliced fresh mozzarella
1 tablespoon olive oil
1/3 cup marinara sauce
Liberal dashes of salt and pepper
Dried oregano (for garnish)
Directions: 
Preheat broiler.
Slice zucchini into 1/4-inch slices. Season with salt and pepper and sprinkle with olive oil. Broil for about 2 minutes to soften.
Add about 1/2 to 1 tablespoon of sauce onto each slices. Top with a small slice of mozzarella cheese and 1/2 teaspoon of Parmesan. Repeat until all zucchinis have been topped. Add a dash of salt and pepper and broil an additional 2 to 3 minutes, or until the cheese is melted and bubbly. Enjoy warm!
More bite-size recipes
Bite-size snack recipes
5 Fun finger foods for teens
Bite-size comfort foods