Lemonade is one of those drinks you never really outgrow. Maybe it's because the tart, refreshing flavor reminds you of those lemonade stands you had as a kid -- or because it's just the perfect cool drink on a hot summer day. Lemonade is perfect, regardless of how old you are! Although traditional lemonade is great, why not add some variety to your picnic drink of choice?
Fresh basil lemonade
Serves 2
Play around with the simple ingredients of lemonade and add some more exotic ingredients, like raspberries or even basil! They may sound too strange to be good, but the flavors just work and you're left with a deliciously unique drink. So this summer, try one of these refreshingly different lemonade recipes for a great twist on the ordinary!
Recipe adapted from My Recipes
Ingredients:
1/2 cup packed basil leaves
3 tablespoons sugar
3 cups water
1/2 cup fresh squeezed lemon juice
Extra basil for garnish
Lemon wedges for garnish
Directions: 
In a large bowl, add basil and sugar. Using a spoon, crush the basil into the sugar until bruised and squished.
Stir in water and lemon juice until the sugar is completely dissolved, about 3 minutes.
Pour into a pitcher, add extra basil for garnish and enjoy!
Raspberry lemonade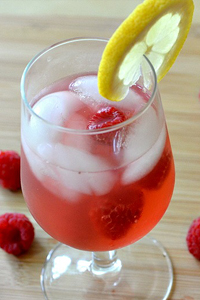 Serves 4
Recipe adapted from Family Fun
Ingredients: 
1 cup sugar
1-1/4 cup water
2/3 cup freshly squeezed lemon juice
2 cups fresh raspberries
Mint to garnish, optional
Directions:
In a saucepan, add water, sugar and 1 cup of raspberries. Simmer over low heat until sugar dissolves completely, about 4 minutes. Strain berries through a mesh strainer and save liquid.
Mix lemon juice and sugar water until fully combined. Garnish with a lemon slice and enjoy!
Blackberry lemonade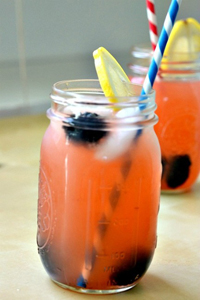 Serves 6
Ingredients: 
3/4 cup sugar
1 cup water
1 cup fresh pressed lemon juice
1 cup blackberries
3 - 4 cups chilled water
Fresh sprig of mint
For how to make it and more, check out this recipe on SheKnows >>
More summer drink recipes
Heart healthy summer drinks
Healthy summer cocktail recipes
Diet friendly drinks for summer's hottest body