The only thing more fun than drinking booze, is eating it! Not only are these dessert recipes cool and refreshing for those hot summer months, they're filled with tequila so they'll help take the edge off. Plus, who doesn't love a grown-up drunken popsicle or whipped cream made with tequila?
Strawberry-lime tequila sorbet
Yields about 2-1/2 cups
Another great thing about these boozy desserts is that they are light so you won't have to worry about messing up that bikini body you've been working on! Whether you are lounging by the pool, hosting a dinner party or having a Memorial Day BBQ by the beach, these desserts are going to be a hit with your friends and family -- that's if you are nice enough to share.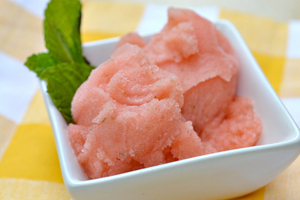 Recipe adapted from Cooking Light
Ingredients: 
1-1/2 cups water
3/4 cup sugar
1/3 cup lime juice (about 2 limes)
1-1/2 tablespoons lime zest
1/2 cup strawberry purée (recipe here)
3-1/2 tablespoons premium tequila (I used Patron)
3 fresh mint leaves, chopped
Directions: 
In a small saucepan, bring sugar and water to a boil and heat for an additional minute, or until sugar is fully dissolved. Remove from heat and cool completely.
Once sugar syrup has cooled, pour into a mixing bowl. Add strawberry purée, lime juice, lime zest and tequila, stir well. Add in chopped mint leaves. Cover with plastic wrap or foil and chill for at least an hour.
Once chilled, pour mixture into the freezer bowl of an ice cream maker. Turn on the ice cream maker and let it stir for about 20 minutes, or until mixture has thickened. Serve immediately or freeze for later use!
Margarita pops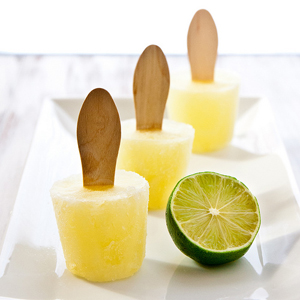 Yields about 12 popsicles
Recipe and photo provided by The Foodie Bride
Ingredients: 
1/2 cup sugar
1 cup water
3/4 cup lime juice
1 teaspoon fresh lime zest
1/3 cup Patron Silver
1/4 cup orange liqueur (like Triple Sec)
Dash of salt
Directions: 
Bring sugar and water to a boil in a small sauce pan until sugar dissolves. Remove from heat and let it cool completely.
Once cooled, mix simple syrup with lime juice, lime zest, tequila, Triple Sec and dash of salt. Using small disposable cups (like Dixie cups) carefully pour the margarita mix into each cup, filling about 2/3 of the way full. Freeze cups for about 2 hours and then insert a popsicle stick into the ends of each cup. Then freeze overnight.
To serve, carefully peel the paper cup from the popsicle and enjoy!
Strawberries with tequila cream
Serves 2
Recipe adapted from My Recipes
Ingredients: 
2 egg yolks
2 tablespoons sugar
2 tablespoons silver tequila
1/4 cup heavy cream
2 cups strawberries, sliced
Fresh mint for garnish
Directions: 
In a heavy saucepan, whisk together the egg yolks, sugar and tequila. Cook mixture over medium-high heat, stirring constantly, until mixture is thick like custard. Place saucepan over a bowl filled with ice to cool down. Custard will need to set about 30 minutes until it's fully cooled.
Meanwhile, beat heavy cream with electric mixer until peaks form, about 4 - 6 minutes. Gently fold the whipped cream into the custard until mixture is fully combined.
Arrange a layer of berries in the bottom of a margarita glass. Top with a layer of whipped tequila cream and repeat until you've made two glasses full. Chill or enjoy!
More boozy dessert recipes
Blueberry lemon beer cupcake recipes
Boozy pineapple upside down cake recipe
Coconut rum ball recipe