If you're hosting a party or having friends over, hot spinach and artichoke dip is one appetizer that will never disappoint. People of all ages just can't get enough of this creamy, cheesy, tangy dip. Although the classic bowl of dip and chips is sure to please, why not play around with the presentation and wow your friends and family instead?
These adorable bite size spinach and artichoke bites aren't only cute and unique, they are incredibly delicious! Since the dip is served in bite size phyllo shells, you still get the flakey, crunch you'd expect with a chip. You may find these easier (and a bit funner) to eat than the standard dip!
Mini spinach and artichoke dip bites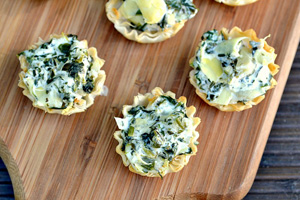 Yields about 36 shells
Ingredients: 
For the dip

1 (14 ounce) can artichoke hearts, drained and chopped
10 ounces frozen spinach, thawed and cooked
1/2 cup fat-free sour cream
1/2 cup low-fat mayonnaise
4 ounces of light goat cheese
1/2 cup plus 1 tablespoon Parmesan cheese
2 tablespoons Italian seasoning
Salt and pepper to taste
For the shells
3 packages (12 baked) phyllo shells
Directions: 
To make the dip: Preheat the oven to 375 degrees F. Grease a loaf pan or 8 x 8-inch baking dish with nonstick cooking spray. In a large bowl, mix together all of the ingredients (except for the last tablespoon of Parmesan). Add salt and pepper. Sprinkle with the tablespoon of Parmesan and bake for 22 minutes, or until bubbly.
Carefully scoop about 1 to 1/2 teaspoons of dip into each shell. Serve warm and enjoy!
More bite size appetizer recipes
Fancier super bowl appetizers
Mini reubens with homemade thousand island
Sweet appetizer recipes to start the party off right