As refreshing as a gin and tonic, frozen margarita, mojito or dirty martini can be, those same ol' drinks can get... well... boring after a while. Instead of whipping up the same tired cocktail you drink every night, break the rut and make one of these unique recipes instead! These drinks are similar to your favorites, but have a fun, delicious twist to give your drink some pizzazz! You'll never want the same ol' again!
Most of our lives are in enough of a rut anyway, so don't let your nightly cocktail fall into that pattern as well! Enjoy one of these refreshing, tasty libations to spruce up your traditional cocktail go-to. Get out of that rut and spruce up your tired cocktails!
Frozen cranberry margarita
Adapted from Betty Crocker
Serves 5
Ingredients: 
4 ounces frozen low-sugar cranberry juice cocktail
3/4 can low-sugar lemon-lime soda
1-1/2 cups cold water
1/2 cup tequila
1 tablespoon lime juice
Lime wedge for garnish
Directions:
Pour all ingredients (except for the garnish) into a blender filled 1/3 way with ice. Blend until smooth.
Chill for at least 2 to 4 hours or until chilled. Garnish with lime.
Cucumber & lemon gin tonic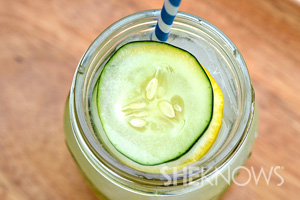 Serves 2
Ingredients:
4 ounces gin
4 tablespoons fresh lemon juice
1/4 cucumber, thinly sliced
Splash of tonic water
Directions:
To make the cucumber drink, pour gin, lemon juice and cucumber slices in a chilled martini mixer with ice and shake well. Pour mixture into a chilled glass filled with ice and top with tonic water. Stir with a spoon. Garnish with thin slices of lemon and cucumber.
Grapefruit mojito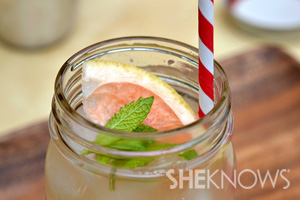 Adapted from Iowa Girl Eats
Serves 2
Ingredients: 
1 grapefruit, cut into slices
10 mint leaves, save 2
1/3 cup grapefruit juice
Juice of one lime
3 tablespoons agave nectar
3 shots white rum
Splash of tonic water
Directions: 
Muddle 4 grapefruit slices, mint, agave nectar and lime juice in a mortar and pestle.
Add ice to a chilled martini mixer. Pour agave and grapefruit mixture into the martini mixer. Add in grapefruit juice, rum and tonic, then shake well. Top with additional mint leaves and grapefruit segments.
Bakon BLT tini
Recipe adapted from Bakon vodka
Serves 1
Ingredients:
3 ounces Bakon vodka
1 ounce V8
1/2 ounce white Worcestershire sauce
White pepper
1 piece of bacon, cooked until crispy
Lettuce and sliced tomatoes for garnish
Directions: 
In a chilled martini mixer filled halfway with ice, add Bakon vodka, V8, Worcestershire sauce and white pepper. Shake vigorously.
Strain mixer into a chilled martini glass. Garnish with tomatoes, lettuce and crispy bacon. Enjoy!
More cocktail recipes
Tax season cocktail recipes
The Hunger Games-inspired cocktail recipes
Cocktail recipes for all of your spring celebrations