What better way to celebrate planet Earth than to eat treats made from its bounty? It's easy to forget just how lucky we are for living on a planet full of incredible ingredients. So, this April 22, throw out those processed granola bars and frozen pizzas and eat 'green' by enjoying recipes made with ingredients found all over this beautiful planet!
Enjoy planet Earth with each bite (and sip) of these delicious recipes because they are all preservative-, chemical-free and are made with only the best organic and sustainable ingredients. Plus, what better way to give back than to eat?
Green spinach smoothie
Serves 2
This smoothie is as green as it gets and is the perfect, healthy way to celebrate Earth Day! Recipe adapted from Iowa Girl Eats.
Ingredients: 
2 frozen bananas
3 tablespoons natural peanut butter
1 cup Greek yogurt (flavored is good)
1 tablespoon brown sugar
2 tablespoons honey
2 cups skim milk
7 cups spinach
Directions: 
Mix all ingredients together in a blender and pulse until smooth. Chill for at least 30 minutes and enjoy!
Give back to the globe just by eating treats!
No bake peanut butter & chocolate oat bars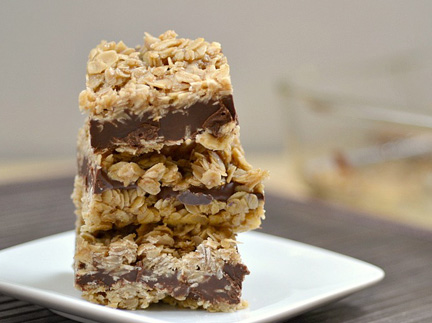 Serves about 16
Ingredients: 
1/2 cup organic butter
1/4 cup packed dark brown sugar
1/2 teaspoon vanilla extract
1-1/2 cups quick cooking oats
1/2 cup semi sweet chocolate chips
1/4 cup natural peanut butter
Directions: 
Grease an 8 x 8-inch baking pan with non stick cooking spray.
Melt butter in large saucepan over medium heat. Stir in brown sugar and vanilla. Mix in the oats. Cook over low heat for about 3 minutes or until ingredients are fully mixed. Press half of mixture into the bottom of the prepared pan.
Place chocolate chips and peanut butter in a microwave safe bowl. Heat for about 60 seconds, stirring at the 30 second mark or until fully melted. Pour mixture over the oat mixture. Crumble the remaining oat mixture over the chocolate layer, carefully pressing the top.
Chill for at least 3 hours or until solid. Cut into bars and enjoy!
Bird's nest cupcakes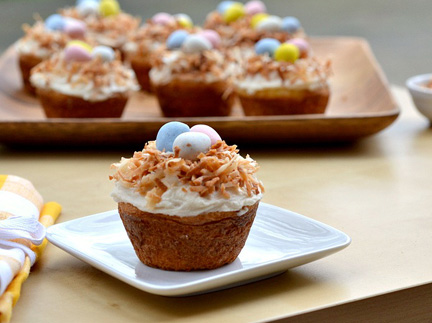 Yields 12 cupcakes
What's more nature inspired than cupcakes shaped like beautiful bird's nests? With each bite, you'll be celebrating the healthy ingredients of the Earth, but also one of its greatest creatures!
Ingredients: 
For the cupcake:
1 cup sugar
1 stick softened butter
2 eggs
2 teaspoons vanilla extract
1-1/2 cups all-purpose flour
1-2/3 teaspoons baking powder
Dash of salt
1/2 cup skim milk
For the frosting: 
1 stick of butter, cut in half
2 cups powdered sugar
2 to 3 tablespoons light cream
For the toppings: 
1-1/2 cups toasted coconut
Cadbury mini chocolate egg candy
For the directions and more mouth-watering photos, check out the recipe here on Fab Foods!
More Earth Day inspired recipes