Gnocchi is a pasta that is severely underused. It's often left to sit alone on grocery store shelves while its distant cousins, the fettuccine and tortellini, get all the action. Instead of passing over it, throw a carton of the potato (or cheese filled) dumplings into your cart and get home to make this recipe! The chewy, plump gnocchi is a perfect companion to the delicious, creamy and cheesy sauce. Add a bit of breadcrumbs and trust me, this might soon replace your favorite, traditional mac n' cheese recipe!
Seriously, what could be better than potato or cheese dumplings covered in a melted, three cheese sauce? Not only will this be a hit with your foodie and chef friends, it'll be a hit with all your family, kids included! Just a pre warning though: you'll be asked to make this again... and again... and again.
Baked gnocchi mac n' cheese
Yields about 6-1/2 cup servings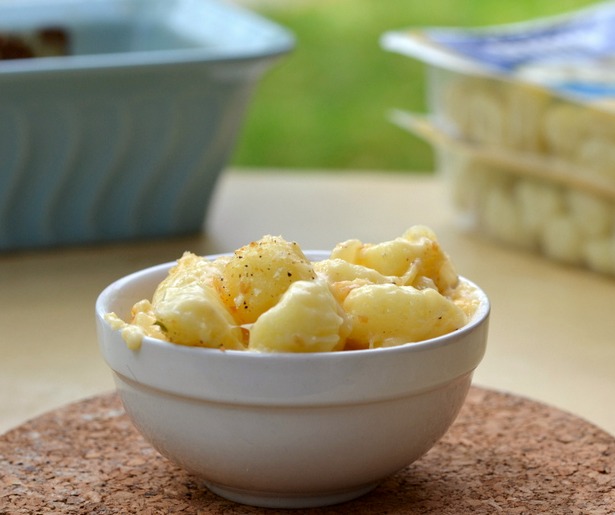 Ingredients: 
1 pound gnocchi (can use potato or cheese filled)
1/2 medium onion, chopped
2-1/2 tablespoons butter
1-1/2 tablespoons flour
3/4 cup skim milk
1/3 cup cheddar cheese
1/3 cup mozzarella cheese
1/4 cup Parmesan cheese
2 - 4 tablespoons breadcrumbs
Salt and pepper
1/2 tablespoon dried parsley
Directions: 
Preheat oven to 375 degrees F. Grease a 2 or 3 quart baking pan.
Cook gnocchi according to package instructions and rinse. Pour gnocchi into the prepared pan.
In a medium-size skillet, heat butter over medium heat. Add onions and cook until fragrant and a bit translucent, about 3 minutes. Add in flour and whisk until bubbly.
Once bubbly, pour in milk and cook until mixture is thick, about 2 minutes. Add in cheddar and mozzarella cheese and remove from heat. Liberally season with salt and pepper.
Pour cheese mixture over the gnocchi. Sprinkle with Parmesan cheese, breadcrumbs and parsley.
Bake pasta for at least 20 minutes, or until golden brown and bubbling. Serve warm and enjoy!
More gnocchi recipes
Tonight's dinner: Baked gnocchi
Cheesy beefy gnocchi recipe
5 Unique low-cal foods to add to your diet this spring