If there's one sandwich that's universally loved by people of all ages, it's the BLT. Crispy bacon, fresh lettuce, juicy tomatoes and mayonnaise -- all placed between two perfectly crunchy pieces of toast. However delicious it is, it's not an easy sandwich to transport to picnics or BBQ's. To still get your fix of a delicious BLT that is both portable and mouth-watering, try this quick and easy recipe for creamy BLT pasta salad!
The key to recreating that perfect BLT taste is to make sure the bacon is crispy (not burned) and to use the freshest lettuce and tomatoes possible! After one bite, you'll find it nearly impossible not to gobble up the entire batch!
Creamy BLT pasta salad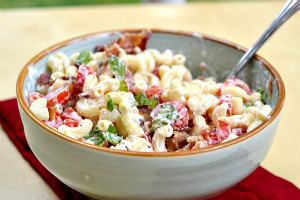 Serves about 4
Ingredients: 
8 ounces of macaroni noodles
6 pieces of crispy bacon
8 - 10 grape tomatoes
1 leaf fresh lettuce
1/4 cup low-fat mayonnaise
1/4 cup low-fat sour cream
Salt and pepper
Directions: 
Cook pasta according to package directions until al dente, about 6 - 8 minutes. Rinse and set aside to cool.
While pasta cools, slice the grape tomatoes into thin slices, set aside. Chop lettuce and place with the tomatoes. Using your hands, crumble bacon into small pieces and place in a bowl.
Add pasta to the bowl with the crumbled bacon and mix. Add in mayonnaise, sour cream, salt and pepper -- mix until fully combined. Carefully stir in chopped lettuce and tomatoes. Serve room temperature or cool and enjoy!
More quick and easy pasta recipes
Sunday dinner: Pasta with low-fat walnut pesto
Quick and easy pesto pasta meal
Top 100 pasta dishes