Renditions of these adorable cupcakes have been popping up all over the web and it's not hard to see why -- they are absolutely adorable! These bird's nest themed cupcakes make the perfect dessert for an Easter brunch, a spring time party -- or even double as place cards for weddings or bridal showers! Not only are they cute and easy to make, they are absolutely delectable!
Although the cake and toasted coconut give this dessert a great flavor, it's the icing that make them irresistable. Made with a mix of softened and browned butter and powdered sugar, this frosting lends the cupcake a perfectly rustic and deep flavor. These cupcakes are a dessert both kids and adults will love!
Birds nest cupcakes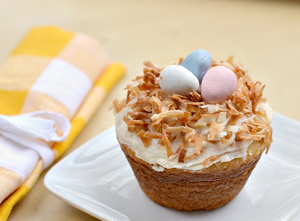 Yields 12 cupcakes
Ingredients: 
For the cupcake:
1 cup sugar
1 stick softened butter
2 eggs
2 teaspoons vanilla extract
1-1/2 cups all-purpose flour
1-2/3 teaspoons baking powder
Dash of salt
1/2 cup skim milk
For the frosting: 
1 stick of butter, cut in half
2 cups powdered sugar
2 to 3 tablespoons light cream
For the toppings: 
1-1/2 cups toasted coconut
Cadbury mini chocolate egg candy
Directions: 
Preheat oven to 350 degrees F. Grease a 12 cup muffin pan with nonstick cooking spray (or line with paper liners) and set aside.
Cream butter and sugar together in a large mixing bowl until fluffy. Beat in the eggs, one at a time, mixing fully between each addition. Add in vanilla and mix well. In another bowl, combine baking powder, salt and flour, mix. Add into the wet mixture and mix well. Stir in milk until mixture is creamy. Pour cake mix into the prepared muffin pan, filling about 2/3 full.
Bake for 18 to 25 minutes, or until tops are golden brown. Remove from the muffin pan and let cool completely before you frost.
While cupcakes cool, prepare frosting. Heat 1/2 the stick of butter in a medium sauce pan over medium-low heat until browned, about 8 minutes. Remove from heat and pour into a mixing bowl. Add other half of the butter and powdered sugar. Beat with a handheld mixer until fluffy. Add in milk and stir.
Once cupcakes have cooled, frost with the brown butter icing. Sprinkle each cupcake with toasted coconut and then place three eggs into the center. Eat while warm and enjoy!
More spring dessert recipes
Spring desserts
Blueberry lemon beer cupcake recipe
Chocolate lava cakes with Cadbury Eggs recipe