Breakfast is the most important meal of the day, however it's also the meal that's often overlooked due to busy mornings and hectic work schedules. Skipping breakfast doesn't only lead to overeating later on, it can also cause you to gain more weight than those who eat in the a.m. Fend off weight gain, stay fuller longer and build lean muscle mass with these protein packed breakfasts. But don't worry, they are still delicious too so you won't even know you are eating healthy foods!
Sure eggs are a great source of protein, but they aren't the only ones! Lean bacon, oatmeal, Greek yogurt and chicken sausage are other delicious breakfast options that offer up tons of protein. With breakfast options this tasty, you'll never want to skip it again!
Blueberry granola breakfast parfait
Serves 1
For less than 250 calories, you can get a whopping 24 grams of protein with this tasty breakfast! This honey topped parfait has just the right amount of juicy fruit, crunchy granola and sweetness from the honey! Plus, you'll be guaranteed full until lunch!
Ingredients: 
1 cup low-fat Greek yogurt
1/4 cup nut granola
1/4 cup fresh blueberries
1 tablespoon flax seed
1 tablespoon honey
Directions: 
Add yogurt, granola, blueberries and flax seed to a bowl. Drizzle honey over the top and enjoy!
Oatmeal raisin muffins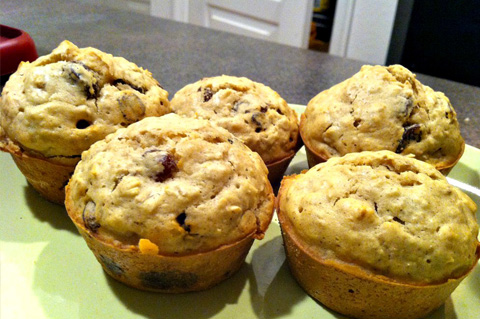 Yields 12 muffins
Want an easy way to get your protein? Eat one of these muffins! Each muffin has over 5 grams of protein per serving! Plus, they taste just like the cookie so it's almost like you are eating dessert for breakfast!
Ingredients: 
1-1/4 cups whole wheat flour
1-1/2 cups quick-cooking rolled oats
1/2 cup firmly packed brown sugar
2 teaspoons baking soda
1 teaspoon cinnamon
1/4 teaspoon salt
3/4 cup water
1/4 cup skim milk
1/4 cup canola oil
2 tablespoons unsweetened applesauce
1 teaspoon vanilla extract
1 egg
1/2 cup raisins
Directions: 
Heat oven to 400 degrees F. Line a muffin tin with paper liners and set aside.
In a large mixing bowl, combine flour, baking soda, brown sugar, salt, oats and cinnamon. Stir well.
In another bowl, combine milk, vanilla extract, water, oil, egg and water. Mix well. Mix the dry ingredients into the wet ingredients, and stir until just moistened. Add raisins.
Spoon batter into prepared muffin cups, filling 2/3 full and bake for 15-20 minutes or until toothpick inserted in center comes out clean and immediately remove from pans.
Poached egg scramble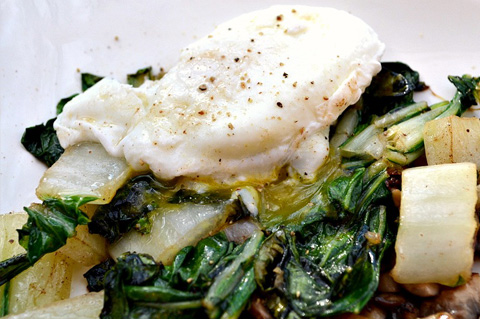 Serves 1
An egg is one of the easiest ways to add protein to your diet without adding a whole lot of fat. Poaching is also a healthy way to prepare the egg without having to add any butter or oil! Serve with a batch of veggies for more fiber and protein!
Ingredients: 
1 egg
1 teaspoon rice vinegar
1 cup of wilted kale, spinach or bok choy
1/2 cup of mushrooms, chopped
1 tablespoon of extra virgin olive oil
1/2 medium onion, chopped
2 tablespoons of feta cheese, crumbled
Liberal dashes of salt and pepper
Directions: 
Heat a pot of water on high. When heat is just about to boil, reduce to low heat. Add vinegar. Crack the egg carefully into a small cup and gently pour into water. Using a large spoon, gently push the separated egg whites over the yolk to cover it. Turn heat off and let egg sit for an additional 5 minutes. Carefully remove using a deep, slotted spoon and set aside on a paper towel to dry.
Heat oil in a medium pan over medium-high heat. Add onions and mushrooms and cook until soft, about 4 minutes. Add kale, spinach or bok choy and cook another 4 minutes longer, until veggies are soft, about 2 minutes.
Add salt and pepper and remove from heat. Place veggies on a plate and carefully place the egg on top. Garnish with feta cheese.
More protein packed recipes
Protein packed cantaloupe bowl
Healthy recipes to kick-start your diet
Protein packed breakfast ideas