For many of us, those week-long binges down in Panama City Beach and Cancun are as much a distant memory as those bikini bodies we used to rock. Instead of body shots and all night binges, our days are filled with carpools, 9-5ers and meal prep. However, just because you aren't 19 anymore doesn't mean you still can't indulge in a boozy cocktail. Try one of these three super strong libations and let loose, if only for an evening!
If a long day on the beach is out of your reach, don't fret. Close your eyes and sip one of these fruity, boozy cocktails and let your mind take you back to those beer-filled, crazy days of your youth.
Sour patch martini
Yields 1 drink

The quickest way to live up the old days is to enjoy a drink whose flavors remind you of your favorite candy! This tart, sweet and sour patch martini is the perfect pick me up after a long day!
Ingredients: 
1 ounce raspberry vodka
1 ounce sour apple pucker
1 ounce watermelon pucker
1 ounce sweet and sour mix
Directions: 
Pour all ingredients into a chilled martini mixer with ice. Shake vigorously. Dip martini rim in sugar (optional) and pour contents of shake into the glass. Enjoy!
Sex on (insert your favorite Spring Break destination) beach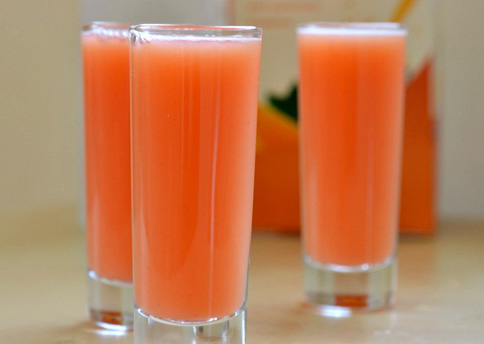 Yields about 3 shots
The title alone is enough reason for you to grab your friends and take some of these fruity, naughty shots -- filled with two types of delicious liquor. These will certainly have you feeling adventurous in no time!
Ingredients: 
1 ounce light vodka (try Violi!)
1 ounce peach schnapps
1-1/2 teaspoons grenadine syrup
1/4 ounce light ream
4 ounce pineapple or orange juice
Ice
Directions: 
Place all ingredients in a blender and blend until smooth. Serve in shot glasses and enjoy!
Watermelon lime Jell-O shots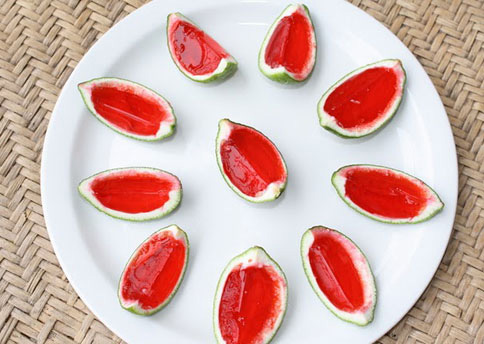 Yields 40 shots
What's more Spring Break than Jell-O shots? These gorgeous Jell-O shots by That's So Michelle served in lime peels are much fancier than the ones you'd chug from a plastic cup.
Ingredients: 
10 limes
One box watermelon Jell-O
1 cup vodka
1 cup boiling water
Directions: 
Cut limes in halves and hollow out the peel. The trick is to take a paring knife and score around the insides carefully to loosen the citrus. Then spoon it out saving the fruit.
Boil one cup of water and add it to Jell-O mix in a large bowl, stirring until it dissolves. Gradually add one cup of vodka and stir.
Pour mixture into a cup with a spout and pour Jell-O mixture into the limes (make sure they are standing upright). Refrigerated over night and then cut the halfs into quarters and enjoy!
More cocktail recipes:
Low carb summer drinks
Tips for making signature cocktails
Iced tea cocktails