In the world of healthy eating, casseroles are often left out of meal plans and diets due to the misconception that they are loaded with fat, calories and carbohydrates. However, casseroles aren't all bad, some are even good for you! These three casseroles below are lower in fat and calories and are full of protein and dietary fiber!
The key to lightening up a casserole is swapping out the high fat ingredients typically found in them, like mayonnaise, butter and sour cream for lighter fattening agents, like applesauce and Greek yogurt! Plus, using lighter, leaner cuts of meat (or completely cutting out the meat for heartier vegetables) will save you calories too!
Baked spaghetti casserole
Serves 6
Ingredients: 
2 teaspoons olive oil
1 onion, chopped
1 cup of mushrooms, chopped
2 garlic cloves, minced
3/4 teaspoon crushed red pepper
3/4 pound lean turkey sausage, de-cased
4 cups cooked whole wheat spaghetti
2 cups low-sodium marinara sauce
1/2 cup part skim, shredded mozzarella
6 thinly sliced pieces fresh mozzarella
1/3 cup fat-free ricotta
1 teaspoon salt
2 teaspoons parsley
1 teaspoon fresh basil, chopped
Directions: 
Preheat oven to 375 degrees F. Grease a 2 quart casserole dish with cooking spray and set aside.
Heat oil in a non stick skillet over medium high heat. Add onions, garlic and mushrooms and cook until softened, about 5 minutes. Add turkey and break apart with a spoon. Cook until meat is browned, about 5 minutes.
Stir spaghetti, pasta sauce, mozzarella (shredded), ricotta and herbs together. Add meat, onions and mushrooms, stir until combined. Pour into the prepared casserole dish. Place fresh mozzarella slices over the casserole and bake until cheese is bubbly, about 20 minutes.
Eggplant and vegetable lasagna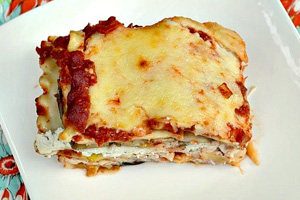 Serves 6
Ingredients: 
1 eggplant, cut into thin slices
2 tablespoons olive oil
1-1/2 cup low-fat marinara sauce
1/2 teaspoon dried oregano
1/2 cup of fresh basil leaves, chopped
1 cup fat-free ricotta cheese
8 ounces cooked whole wheat lasagna noodles
1 cup of mushrooms
2 cups part skim mozzarella cheese
Liberal dashes of salt and pepper
Directions: 
Preheat oven to 350 degrees F. Grease a 2-1/2 to 3-quart casserole dish with cooking spray.
Arrange eggplant slices in a single layer and sprinkle with salt. Let sit for 15 minutes.
Combine basil, 1 cup of mozzarella, ricotta, oregano and black pepper in a bowl.
Arrange four noodles on the bottom of the pan. Top with 1/2 cup marinara, half of eggplant, half of mushrooms. Spread ricotta mixture over veggies. Cover with four noodles. Repeat process until you end with the noodles. Cover with remaining sauce and mozzarella.
Sprinkle with additional basil and cover with foil. Bake for 35 minutes. Remove foil and bake for about 20 minutes longer or until cheese is melted and bubbly.
Green bean casserole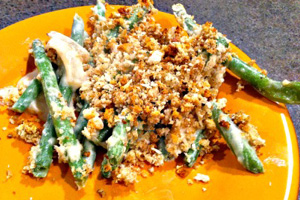 Serves 4
Ingredients:
1/2 medium onion, chopped
2 tablespoons all purpose flour
1 cup skim milk
1/2 cup reduced-fat mozzarella cheese
1/2 cup fat-free sour cream
1 teaspoon sugar
1/2 teaspoon salt
18 ounces of fresh green beans
1-1/2 cups herb stuffing mix
2 tablespoons of butter
1 egg white
Directions: 
Preheat oven to 350 degrees F. Coat a medium sauce pan with cooking spray and sauté onions until soft, about 5 minutes.
Add flour and cook, stirring constantly for 1 minute. Gradually add milk, stirring until all combined. Stir in cheese, sour cream, sugar and salt and heat until it thickens and bubbles, about 3 minutes.
Place green beans in the prepared baking dish and cover with sauce. Combine stuff mix, butter and egg white, stirring until combined. Sprinkle over green beans.
Bake for at least 35 minutes, or until sauce is bubbly.