One of the hardest parts of dieting is finding foods that will satisfy and keep you full. Many diet-friendly foods are low in calories, but also low in key nutrients and healthy fats, which work to build lean muscle and keep us from over eating. The recipes below not only satisfy any cravings and keep you full, they are also naturally low in calories but high in protein and fiber, and are all under 10 Weight Watchers points.
For those following Weight Watchers, each of these crock-pot meals fall under 10 points and contain savory, hearty ingredients like lamb, spiral cut onions, spicy curry and creamy mozzarella cheese. With food this good, you won't even remember you are dieting! Plus, with each dish containing 5 grams of fiber and up, you'll stay full longer.
Hearty Irish stew
Serves 8
Ingredients: 
3 cups of organic low-sodium vegetable broth
2 pounds of boneless leg of lamb, chopped into bite size pieces
2 large Russet potatoes, cut into cubes
1 large onion, cut into spirals
2 parsnips, chopped
3 carrots, cut into chunks
1 bay leaf
1 teaspoon sea salt
1/2 teaspoon fresh ground pepper
1 teaspoon crushed red pepper
2 tablespoons chopped basil
1 teaspoon parsley
Directions:
Combine broth, lamb, potatoes, carrots, parsnips, onions, bay leaf and herbs into a crock-pot. Cover and cook until lamb is very tender, about 6 hours on low. When done, discard bay leaf and season with additional basil and parsley and serve hot!
Italian pot roast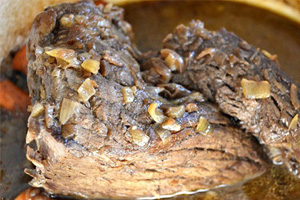 Serves 6
Ingredients: 
1/4 cup all purpose flour
1 teaspoon salt
1/2 teaspoon black pepper
2 pound bottom round beef pot roast
1 cup of dry red wine
1 tablespoon olive oil
1 large onion, chopped
2 garlic cloves, minced
1 cup of mushrooms, chopped
2 carrots, quartered
1 teaspoon dried rosemary
1/2 cup reduced sodium beef broth
8 parsley sprigs
Directions: 
Cover meat in flour, salt and pepper. Heat olive oil in a large pan over medium high heat. Add beef and cook until browned on each side, about 10 minutes total. Transfer to a crock-pot.
Add onions, garlic, mushrooms, carrots and rosemary to the pan and cook until just softened, about 5 minutes. Add broth and bring to a boil, being sure to scrape up the brown bits from the bottom of the skillet. Pour mixture to the slow cooker over the meat.
Cover and cook until beef is tender and falls apart at the touch, about 6 - 8 hours on low. Serve with gravy and mashed potatoes!
Spicy chicken curry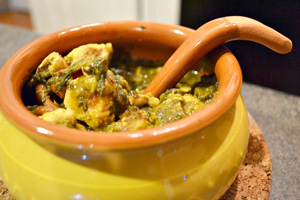 Serves 6 
Ingredients: 
2 boneless, skinless chicken breasts, chopped
1 tablespoon olive oil
1/2 medium onion, chopped
1 stalk of celery, chopped
2 garlic cloves, minced
1 tablespoon curry powder
1 teaspoon ground cumin
1 teaspoon crushed red pepper
2 cups low-sodium chicken broth
3/4 cup red lentils
1 (28 ounce) can fire roasted diced tomatoes
1 can (16 ounces) spinach, drained
1 carrot, chopped
Fresh cilantro (garnish)
Directions: 
Place all ingredients into the crock-pot (except broth, spinach and tomatoes). Pour broth over vegetables, chicken and spices. Cover and cook on low for 5 hours or until chicken is cooked and tender. Pour tomatoes and spinach into the crock-pot and heat an additional 30 minutes. Serve with a dollop of sour cream and fresh cilantro!