While the cake is popular, elegant and delicious, there are other adaptations of red velvet that are certainly worth noting. Here are four unique treats to try!
Marbled red velvet cheesecake brownies
Makes 15 servings
These brownies are stunning to behold, not only because of the bright red hue, but also because of the elegant cheesecake swirl.
Ingredients:
Red velvet layer:
3-1/4 cups all-purpose flour
2-1/4 cups granulated sugar
3 tablespoons cocoa powder
1 teaspoon salt
1/2 teaspoon baking powder
3 large eggs
1 cup vegetable oil
1 tablespoon vanilla extract
1 tablespoon red food coloring
2 teaspoons white vinegar
2 tablespoons milk
Cheesecake layer:
2 (8 ounce) packages cream cheese, softened
3/4 cup granulated sugar
2 large eggs
2 teaspoons vanilla
Directions:
Preheat oven to 350 degrees F. Grease a 13 x 9-inch pan.
In large bowl, whisk together the flour, sugar, cocoa powder, salt and baking powder. Set aside.
In a medium bowl, whisk together eggs, vegetable oil, vanilla extract, red food coloring and white vinegar.
Combine the dry and wet ingredients, until completely combined.
Remove 3/4 cup of the batter and place it in a medium bowl. Whisk in the 2 tablespoons of milk (into the 3/4 cup of batter you just took out). Set aside the 3/4 cup batter.
Pour the remaining batter into the prepared pan. Using a spatula, smooth out the batter to reach all the edges.
In a stand mixer, beat cream cheese and sugar until fluffy, about 2 minutes.
Add eggs and vanilla, beating until combined and lump-free.
Pour the cream cheese mixture on top of the red velvet layer and smooth mixture till it reaches all the edges.
Drop spoonfuls of the remaining red velvet batter (mixed with milk) onto the top of the cheesecake layer. Drag the tip of a knife through the red velvet and the cheesecake layers to create swirls.
Bake for about 40 minutes, rotating half way through, or just until the center is set and it no longer jiggles. Let cool completely on a wire rack before cutting.
Red velvet cheesecake ball
Makes about 16 servings
Take this to your next get-together and impress the rest of the guests! It will no doubt stand out on any buffet table.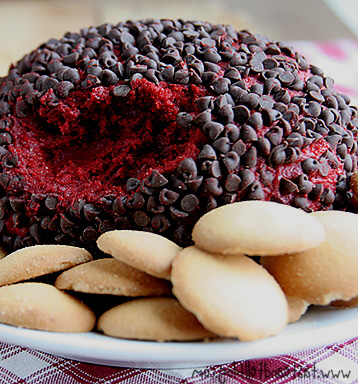 Ingredients:
8 ounces cream cheese, room temperature
1/2 cup butter, room temperature
1-1/2 cups red velvet cake mix, dry
2 tablespoons brown sugar
1/2 cup powdered sugar
1/2 cup mini chocolate chips
Assorted cookies
Directions:
In the bowl of a stand mixer, beat the cream cheese and butter until smooth.
Add in the red velvet cake mix, brown sugar and powdered sugar. Beat until smooth and combined.
Turn the mixture out onto a piece of plastic wrap. Wrap up into a ball and refrigerate for at least 2 hours.
Put the chocolate chips on a plate or in a shallow dish. Remove the cheese ball from the refrigerator and unwrap.
Roll in the chocolate chips.
Place on a serving plate and serve with cookies.
Red velvet crispy rice treats
Makes 15 treats
This take on the traditional crispy rice treats is vibrant and tasty, especially because of the white chocolate drizzle on top.
Ingredients:
3 tablespoons butter
1 (10-1/2 ounce) bag mini marshmallows
1 teaspoon vanilla extract
3/4 cup red velvet cake mix, dry
6 cups chocolate crispy rice cereal
4 ounces white chocolate chips, melted
Directions:
Line a 13 × 9-inch pan with wax or parchment paper. Coat well with cooking spray. Set aside.
In a large saucepan, melt the butter over low heat.
Add marshmallows, cake mix and vanilla, stirring frequently, until melted and smooth.
Fold in the cereal until well combined and coated.
Transfer sticky cereal mixture to the prepared pan, pressing down until the top is level.
Drizzle white chocolate over top.
Red velvet pancakes
Serves 4
Try this batch of pancakes on a slow morning and get your day started off with a bright red bang!
Ingredients:
1 cup all-purpose flour
1 teaspoon baking powder
1/4 teaspoon baking soda
1/4 teaspoon salt
2 tablespoons granulated sugar
2 tablespoons unsweetened cocoa powder
1 egg
3/4 cup buttermilk
1/4 cup sour cream
1 tablespoon red food coloring
1 teaspoon vanilla extract
3 tablespoons butter, melted
Directions: 
Whisk flour, baking powder, baking soda, salt, sugar and cocoa powder in a large bowl.
In another large bowl, beat egg with buttermilk, sour cream, food coloring and vanilla extract until smooth.
Slowly whisk the flour mixture into the wet mixture, adding melted butter in gradually as well, until all lumps are gone.
Heat a large nonstick pan over medium heat, then pour in the batter 1/4 cup at a time.
Flip when bottoms are set and bubbles are forming on top and cook until firm and fluffy all the way through.
Serve warm with cream cheese glaze or syrup.
More red velvet goodies
Red velvet hot chocolate
Red velvet cocktail
Low carb sugar-free red velvet cake