December 20th officially kicks off the eighth day Hanukkah celebration. This holiday, which is known as the celebration of lights, brings families from all over the world together to pray, sing songs, play dreidel, exchange gifts and indulge in the delicious flavors of traditional Jewish fare. However, this year, stray away from the ordinary dishes and add some contemporary flair to your menu with succulent beef short ribs, spicy red potato latkes, honey baked challah bread, white wine marinated asparagus and delicate raspberry rugelach.
Almost everything about the Hanukkah holiday revolves around ancient traditions and sacred practices, so why not play around with your dinner menu? Substituting succulent beef short ribs for brisket and spicy latkes for regular will add just the right amount of flair and flavor to your holiday celebration. Finish the night off with sweet rugelach made with raspberry preserves for a truly unforgettable and completely kosher meal.
Wine soaked short ribs
Serves 8
Ingredients:
3/4 cup all-purpose flour  
8 beef short ribs
2 tablespoons olive oil  
4 sprigs of fresh rosemary, chopped
1 large onions, finely chopped
2 carrots, chopped
1 3/4 cups dry red wine
2 cups organic beef stock
1 teaspoon Worcestershire sauce
1/2 cup of water
1 teaspoon black pepper
1/2 teaspoon kosher salt
Directions:
Heat oil in a large Dutch oven over medium heat. Cover beef ribs in flour and place in oil, cooking until ribs are browned on each side. Remove from heat and place on a plate.
In the same Dutch oven, cook carrots and celery until browned, about 6 minutes. Add wine and bring to a boil. Add beef stock, Worcestershire sauce, rosemary, salt and pepper. Bring to another boil. Add ribs back into liquid and add water.
Bring beef ribs to another boil and then reduce heat to low. Cover ribs and let simmer until they are very tender and able to fall off the bone.
Serve with additional rosemary as garnish and enjoy!
Spicy red potato latkes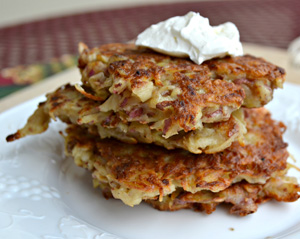 Serves 8
Ingredients:
4 cups of shredded red potatoes, skin on
2 tablespoons grated onion
3 eggs beaten
4 tablespoons all-purpose flour
3 teaspoons salt
1-1/2 teaspoons ground chili powder
1/2 teaspoon garlic powder
1/4 cup of olive oil for frying
Directions:
Squeeze moisture out of potatoes and onion with a paper towel or cheese cloth. Place in a medium size mixing bowl.
Add eggs, flour, salt, chili powder and garlic powder and mix well. If potatoes seem too wet, add additional flour.
Heat oil in a medium frying pan. Scoop latkes into the pan and fry until browned on each side, about 3-4 minutes. Serve with sour cream or enjoy on their own!
Honey baked challah
Makes 2 loaves
Ingredients:
1-1/2 packets active dry yeast
1 cups warm water
2 eggs
3-1/2 cups all-purpose flour
2-1/2 cups whole wheat flour
1 tablespoon sugar
1/4 cup honey
1/4 cup vegetable oil
1 tablespoons kosher salt
Directions:
Mix the yeast and water together in a large bowl and add a teaspoon of honey. Let sit alone until yeast starts bubbling. Add the remaining ingredients into the yeast and mix well. 
Let dough rise for at least 2 hours then braid into two loaves.
Preheat oven to 350 degrees F.
Place on a greased cookie sheet and let rise for an additional hour or so. To make an egg wash, mix eggs and at least 1 tablespoon of water. Brush over the dough with a pastry brush and bake for at least 45 minutes.
White wine marinated asparagus and carrots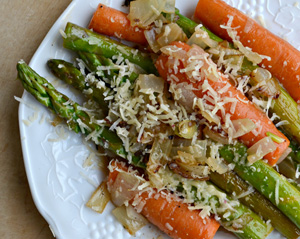 Serves 6
Ingredients:
1 pound of asparagus (about 12 pieces)
5 carrots, cut into 1/4 pieces
1/2 cup of dry white wine
2 tablespoons of olive oil
1 large onion, chopped
3 tablespoons of freshly grated Parmesan cheese
1 teaspoon salt
1/2 teaspoon black pepper
Directions:
In a large pan, heat olive oil over medium-high heat. Add onions and cook until browned, about 4 minutes.
Chop stems off asparagus and add to the pan. Add carrots and cook 2 minutes. Pour wine over vegetables and cook until wine is almost fully evaporated. Add salt and pepper and remove from heat.
Place vegetables in a serving platter and garish with Parmesan cheese. Serve warm.
Raspberry rugelach
Yields 24 cookies
Ingredients:
1 cup plus 1 teaspoon butter, divided (room temperature)
1 (8 ounce) package cream cheese
3 cups all-purpose flour
4 cups ground walnuts
3/4 cups sugar
1/4 cup brown sugar
1/2 cup milk (2 percent)
1 teaspoon almond extract
1/2 cup finely chopped walnuts
1 cup raspberry preserves
1/2 cup chopped fresh blueberries
1/4 cup sugar
Directions:
Preheat oven to 325 degrees F and line cookie sheets with parchment paper.
Using a mixer (hand-held or Kitchen Aid), add 1 cup of butter and cream cheese, beat until creamy. Gradually add flour until mixture forms a ball. Divide the dough and roll dough into a 12-inch circle. Chill dough in the refrigerator for at least an hour.
While chilling, mix together the jam, the walnuts and the chopped blueberries. Spread the filling over the dough circles and cut into wedges and form a crescent shape.
Bake for at least 35 minutes or until soft. Roll dough in excess sugar and cool on a wire cooling rack.
A delicious and non-traditional meal that all of your family will enjoy as you celebrate the holiday of lights!