5 Game Day party ideas for your football celebration and beyond. From an Italian football feast to a Tex-Mex throw down, these Game Day party ideas will please any crowd.
Saying goodbye to summer after barbecuce season can be hard for those of us who love to entertain. Fortunately, football season holds one more reason to celebrate – the Game Day party! Here are several fun, festive and fabulous party ideas for the upcoming big game.
1. Football Feast, Italian Style
Italians really know how to get together and have a great time over food. Hosting a Game Day party with an Italian theme provides you with many different food options, and practically assures you and your guests will have a great time.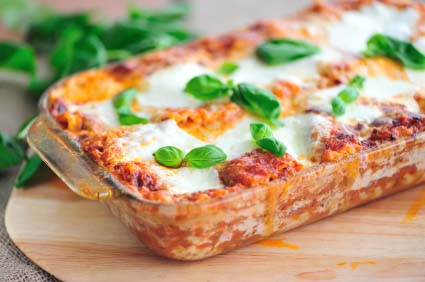 Decorations:
Keep it simple but definitely with an Italian-theme: red and white checked tablecloths and bowls of fruit, fresh flowers and grapevines for centerpieces. You can even play your own games on the grass – hold a Bocce tournament (the Italian version of lawn bowling) during halftime and award the winning team a prize of a nice bottle of wine.
Starters:
Start with an Italian cheese and meats platter served with crunchy artisan bread. Set out bowls of Italian olives and sweet peppers, and include this incredible, crowd-pleasing Tuscan White Bean Dipon your menu.
Pasta:
You'll definitely want pasta for your party, but something that is easy for people to eat when they're not necessarily sitting at a table. Lasagna is a classic pasta dish. Make one with meat sauce and another with veggies.
Salads and Wine:
Italians typically eat their salad at the end of a meal, but you can decide when to serve it. For a fresh salad, consider a Caprese with sliced tomatoes, fresh mozzarella and basil, or a panzanella saladmade with bread, tomatoes and olives. Also, plan to serve a variety of red and white wines. You could ask your guests to each bring a different type of wine so you have several from which to sample. Don't forget to include non-alcoholic options like sparkling water and grape juice.
Dessert:
And for dessert, definitely Italian coffee and tasty treats like tiramisu, biscotti cookies and cannoli.
2. Doing Good on Game Day
Food banks across the country exist with the help of many volunteers, including people and companies that donate food. This year, host a Game Day party where you can have fun with friends, but also help your local food bank and community in the process.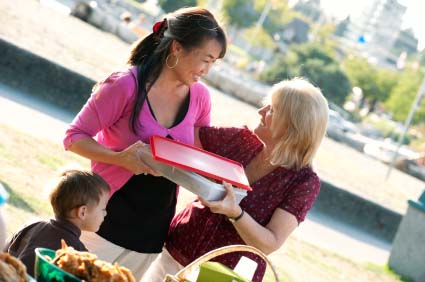 Food Drive Contest:
Hold a contest among the people you're inviting to your party and encourage them to host their own food drive with their friends and coworkers. Make sure each invitee has at least a week's notice so they can work to collect food. The winner is announced at your party during halftime, although in this contest, everyone wins! You might even consider gathering up your friends on another weekend and volunteering as a group at your local food bank.
Menu:
For this Game Day party menu, ask your friends to make their favorite party dish and bring it along for all to enjoy.
3. Super Sandwiches for the Game Day Party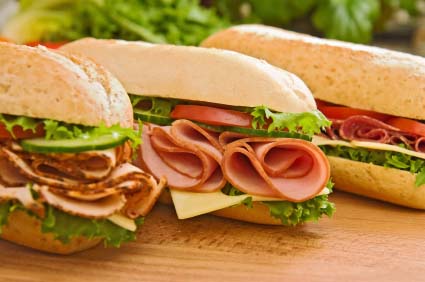 At most big Game Day parties you'll usually find some type of sandwich on the table. If you're looking for something a little different from the usual deli platter or giant sub sandwich to serve, hold a Game Day party with a sandwich theme – but make sure the sandwiches are out-of-the-ordinary. Don't forget to include something for the vegetarians in your life! The following sandwich ideas will make you a super host in the eyes of your guests.
Cuban Sandwich, or Cubano:
Similar to a grilled ham and cheese sub sandwich, the cubano includes layers of ham, roast pork, cheese (like provolone) and pickles. The sandwiches are grilled using a press (you can use a Panini maker or even waffle iron) and includes butter and/or mustard as the only condiments. Grill your sandwiches until the meat and pickles warm in the steam of the press.
Serve with Cuban-style black beans and rice, oven-baked sweet plantains or ceviche. For drinks, the Cuba Libre (rum and Coke), mojito and Café Cubana (Cuban-style espresso often served at the end of meals) are great options.
Build-Your-Own PB & J Sandwich:
Your gridiron-watching guests will be surprised with a classic sandwich from childhood, but pleased with the options you present outside the lunchroom. Instead of using just peanut butter and jelly, include options like various fruit jams, Nutella, marshmallow crème, honey, apple and banana slices, raisins, crushed pretzels and sunflower seeds. Use different bread like pita pockets, whole grain, Challah and cinnamon raisin bread.
Sides:
For side dishes, serve a fresh radicchio and goat cheese salad or sesame cucumber salad. Include party appetizers like warmed Brie with crackers, and herbed hummus with fresh vegetables.
Drinks:
Serve homemade milkshakes, apple martinis, sparkling apple cider or fruit-flavored daiquiris.
4. A Game Plan for Healthy Eats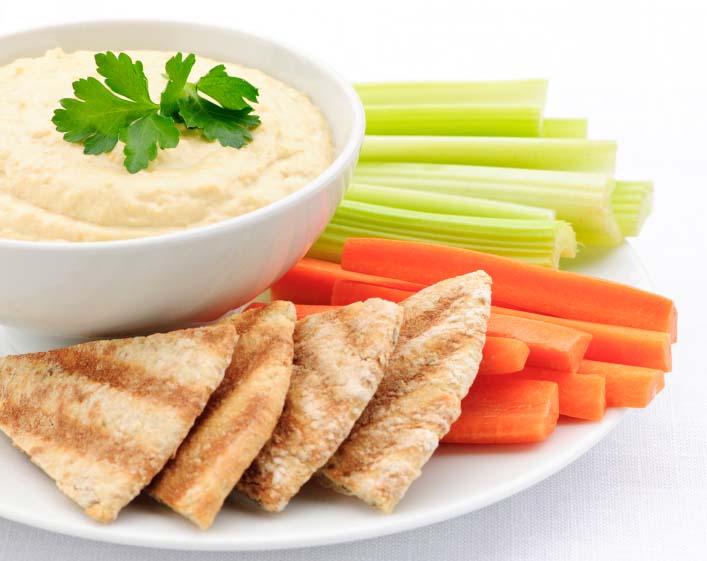 Let's just say it: Half the fun of the Game Day parties is the food! But those parties certainly don't make it easy for many of us to stick to our New Year's resolutions to lose weight or to simply make healthier eating decisions.
But you don't have to break with all football-food traditions or only serve carrot and celery spears to have a fun – and healthy – Game Day party. More than likely, your guests won't even notice simple substitutions and tweaks here and there.
Serve light beer and flavored sparkling water as beverage options and include trays of fresh fruit on the menu. Consider some of the following for a healthier celebration.
Cut down on processed food:
Instead of serving deli lunchmeats for sandwiches, grill organic free-range chicken breasts or Portobello mushrooms for a different take on they typical burger. Serve both on whole-wheat buns with fresh vegetables for topping. Instead of mayonnaise, keep plenty of brown mustard, barbeque sauces and lemon garlic aioli on hand for lower-fat spread options.
Aioli recipe:
To make half a cup of the lemon garlic aioli, combine 1/2 a cup of fat-free mayonnaise, the juice of 1 lemon and 1, minced garlic clove. Mix well and keep chilled until ready to serve.
Buy or make healthier chips:
We know they're tasty and a traditional snack food, but you can save your guests a lot of fat and calories by serving baked potato chips. Another option? Make pita chips to serve with healthier dips. Just buy several rounds of pita bread and split them open. Slice the bread into triangles, drizzle with olive oil, salt and ground black pepper (you can add dried herbs and sprinkle with Parmesan cheese, too) and broil in your oven for several minutes (keep a close eye on them so they don't burn).
Another idea: Serve kale chips, which are nutritious, low in calories and as addictive as potato chips. To make, tear the stems off a clean and dry bunch of kale and rip the leaves into bite-sized pieces. Place the pieces on a baking sheet, drizzle with olive oil and sprinkle with coarse salt. Bake at 350 degrees F for about 15 minutes or until the edges are dry. Or check out this Spicy Garlic Kale Chips Recipe.
Trade in regular dips for "skinny" dips:
While prepared dips might be more convenient, they sure are full of calories and fat. Bean dips (like hummus) are lower- fat and calorie alternatives that you can easily make at home.
Herbed Hummus:
Herbed hummus dip is a tasty favorite: Use 2, 15.5 ounce-cans of chickpeas, 1/3 cup of fresh lemon juice, 2 tablespoons of olive oil, 1/4 cup of tahini oil, 2 garlic cloves and one cup of mixed, fresh herbs like cilantro, chives and dill. Add everything to a food processor with a dash of cayenne pepper and coarse salt, blend until smooth and chill until ready to serve.
Creamy Salmon Dip:
Another great dip for whole-grain crackers or veggies is creamy salmon dip. To make, use a large tin (about 7 ounces) of salmon, drained and separated. Add 1/2 cup of low-fat sour cream, 1/4 cup of chopped celery, 2 tablespoons of chopped scallion, 1 tablespoon of chopped parsley, the grated peel and juice from 1 lemon, and 1/4 teaspoon of salt for seasoning. Mix all together and chill before serving.
A substitution tip:
You can generally use low-fat plain yogurt or low-fat cottage cheese instead of full-fat cream cheese in your dip recipes. When using cottage cheese, puree it in a food processor, and when using plain yogurt, strain it to remove any excess moisture.
5. Game Day Deep in the Heart of Texas
This year the big game takes place just outside of Dallas, Texas, at Cowboys Stadium. To make your guests feel like they're actually "Deep in the heart of Texas," and part of the action, host a Game Day party with a Tex-Mex theme.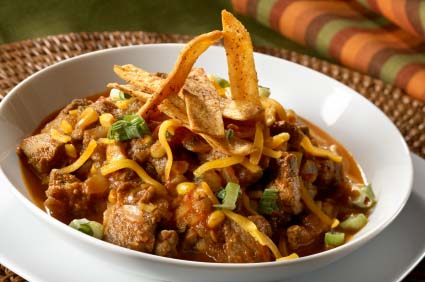 Decorations:
For decorations, try your local party store to buy straw cowboy hats for your guests to wear. Use colored bandanas tied with thin rope for napkins. To decorate around the house, mix yellow roses into your floral arrangements. Request that your guests come gussied up in their finest cowboy – and girl – duds from jeans to boots to buckles. During halftime, hold a contest for the best-dressed male and female at the party and crown them "King and Queen of the Rodeo" with a prize for each (a bottle of barbeque sauce or jar of salsa).
Menu:
Be creative in your planning to keep the food off the beaten path. Rather than the typical chips and salsa from the store, make your own salsa with grilled corn, fresh tomatoes and poblanos. Instead of burgers make carne asada or carnitas with salsa verde.
Green chile cornbread goes with just about anything you'll serve and has a nice kick to it.
Serve a Tex-Mex salad that incorporates jicama or radishes, fresh tomatoes and avocado. To top your salad, make a cilantro-lime dressing: In a food processor, mix 1 cup of cilantro, 1/2 cup extra-virgin olive oil, 1/4 cup of lime juice, 1/4 cup of orange juice, 1 garlic clove and salt and pepper to taste. Blend until smooth and chill before serving.