Quick and easy Thanksgiving dessert ideas to take the fuss out of holiday entertaining.
There's more to Thanksgiving dessert than pumpkin pie. Not that we don't love pumpkin pie, but holiday entertaining doesn't always leave time for grand, showpiece desserts. Here are 5 quick and easy Thanksgiving dessert ideas that take minutes to prepare, but will give your guests the impression that you've been baking for days!
When planning your Thanksgiving desserts, stick with tried and true favorites. This is not the time to experiment with new or complicated recipes. Look for recipes you can make ahead and even freeze, or make sure your pantry's stocked with all the ingredients you'll need so you don't have to head for the grocery store more than once.
Don't be afraid to take advantage of high-quality prepared products like refrigerated pie crusts and store-bought pound cakes. With a few homemade additions, you can turn these products into delicious desserts your guests won't soon forget.
Here are 5 quick and easy Thanksgiving dessert ideas
1. Poached Pears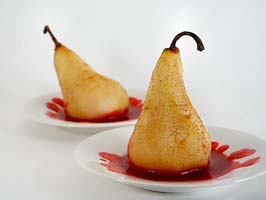 Poached pears
are pears that are peeled, cored, and cooked until softened in a flavorful liquid and they make an elegant and inexpensive dessert. The poaching liquid may be as simple as a simple syrup—a mix of equal parts water and sugar, heated until the sugar dissolves—or a sweet white wine, like a riesling for a light, refreshing dessert.
For a richer option,
poach your pears in red wine
. You can add spices like cinnamon sticks or cloves for added flavor. Simmer the pears for 45 to 50 minutes, until they're fork tender. Poached pears may be served whole on a plate or cut into large chunks and served in a wine glass. They can be poached ahead of time and stored in their poaching liquid; the longer they stay in the poaching liquid, the more flavorful they will be.




2. Trifle
A
trifle
is a simple dessert that makes a spectacular presentation. It's layer upon layer of goodness served in a clear, glass dish. Trifles are like an edible centerpiece.
Start with a store bought pound cake or angel food cake; cut it into large cubes and line the bottom of your trifle dish with them. Next, top the cake with chocolate sauce, fresh fruit, or your favorite fruit preserves; follow that with a layer of sweetened whipped cream; repeat the layers as many times as necessary to fill your dish, make sure you end with the whipped cream.
Trifles may also be made ahead of time. In fact, they tend to taste better after the ingredients have had a chance to coalesce for several hours.


3. Crostata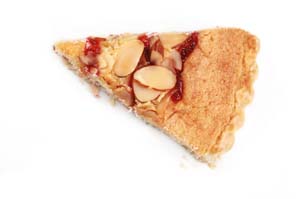 A
crostata
is a rustic, freeform apple pie. You can make a homemade crust or use a premade refrigerated one.
Roll it out until it's about 1/4-inch thick and place it on a sheet tray lined with parchment paper; top the dough with thinly sliced apples or pears that have been tossed in a bowl with a little cinnamon, nutmeg, and sugar or whatever spices you prefer. Place the fruit in the center of the crust, leaving at least a 2-inch border from the edge of the crust; fold the border over so it partially covers the fruit closest to the outside.
Bake the crostata at 400 degrees F for 45 to 50 minutes, until the fruit is soft and bubbling and the crust is golden brown.
4. Ice Cream Cookie Sandwiches
These will be a hit with both the kids and adults at your Thanksgiving dinner. Make or buy an assortment of your favorite cookies and ice creams; set the cookies out on platters next to the ice cream (make sure to have plenty of ice cream scoops nearby); have your guests place a scoop of their favorite ice cream on top of their favorite cookie, then top it with a second cookie; press the cookies gently together to spread the ice cream out, making an ice cream sandwich.
You can roll the edges of each sandwich in shredded coconut, chopped nuts, or even crushed candy for a real treat.


5. Pumpkin Mousse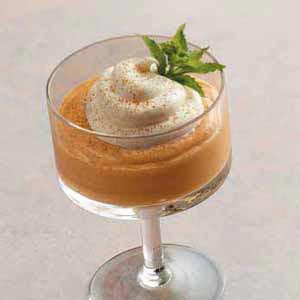 All you need is a can of pumpkin purée and a little sweetened whipped cream to create this delicious faux mousse. Whip a little heavy whipping cream with sugar into stiff peaks, then carefully fold it into the pumpkin purée until it's light and fluffy; spoon the mousse into individual dessert bowls or wine glasses and top with an additional dollop of the whipped cream. You can stir in chopped white chocolate chips, candied nuts, or spices like cinnamon, nutmeg, or ground or crystallized ginger for added flavor.