Anyone looking to add more whole grains to their diet and who is bored of the same old dishes, should give bulgar wheat a try.
As a whole grain, bulgar wheat is packed with nutrition, although it is vastly underappreciated in the United States. However, in the Middle East and parts of Asia, bulgar is used in a number of dishes from appetizers to breads to desserts. That means that anyone looking to add more whole grains to their diet and who is bored of the same old dishes, should give bulgar wheat a try.
Before we start cooking bulgar, we should examine what it is exactly. Bulgar wheat is not a type of grain, instead it is a process that is performed on a number of wheat varieties, the most common being durham wheat. To make bulgar, the wheat is parboiled, the bran removed, and the grains ground. The result of the grinding is bulgar wheat, but be careful, not all bulgar is ground alike.
In fact, the United States recognizes four different sizes of bulgar wheat, from fine (the smallest) to medium to coarse to extra coarse (the largest). This is important because the size of the grain determines its texture, taste, and how long it cooks. Still, for the most part, stores generally sell extra coarse bulgar wheat, which is good because most bulgar recipes call for extra coarse grains.
Next, how does one cook bulgar wheat? Like most grains that haven't been turned into flour, the traditional way to cook bulgar wheat is to boil it. As noted above, the size of the grain will determine the amount of time that is required. Fine bulgar wheat requires no more than five minutes to cook properly. Coarse and extra coarse bulgar wheat can take anywhere from 15 to 30 minutes, however, most recipes state the bulgar should boil about 20 minutes before serving.
Now, what to do with bulgar wheat? Bulgar is a great addition to a number of different recipes from pilaf to replacing barley in beef barley soup to pasta salad. The most famous bulgar recipe, at least in the United States, is the Mediterranean dish, tabouleh. Tabouleh is a sort of side dish/condiment/dip that mixes bulgar wheat, parsley, onions, tomatoes, olive oil, and lemon juice and is simple, fresh and full of flavor. However, there are numerous recipes for it on the Internet, therefore, let's look at a recipe that is a little less common.
Kibbeh Recipe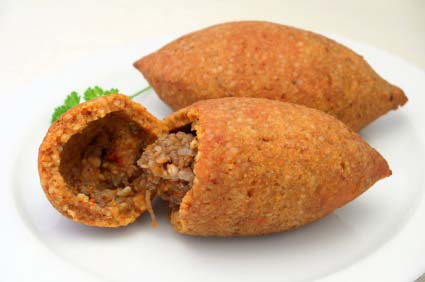 Kibbeh is a Middle Eastern meat mixture normally made from lamb and mixed with bulgar wheat and spices. Normally, kibbeh is turned into pear-shaped portions, breaded, and deep fried.  A healthier version is more like a meatloaf where the bulgar wheat and meat is mixed then baked.
Ingredients:
2 cups beef stock
1 cup extra coarse bulgar wheat
2 tablespoons olive oil
1 onion, diced
1 pound ground hamburger or minced lamb
6 tablespoons chopped fresh parsley
3 tablespoons chopped fresh mint
1 tablespoon pepper
Juice of 1 lemon
Cooking spray
2 tablespoons Hungarian paprika
Chopped almonds

Directions:
Preheat oven to 350 degrees F.
Bring the beef stock to a boil over medium heat and add the bulgar wheat; boil the bulgar for 20 minutes and then remove from the heat.
About halfway through the bulgar wheat's cooking process, put the olive oil in a skillet over medium-high heat. When the olive oil is hot, add the onion and sauté until it starts to turn translucent; this should take about 8 to10 minutes.
Next, add the hamburger, parsley, mint, pepper, and lemon juice; continue cooking until the hamburger is brown and well incorporated with the herbs and onions; then, mix in the bulgar.
Finally, spray the cooking spray onto an oven-safe container and evenly spread the meat mixture into the container; score top of the meat and cover with paprika and almonds. Bake until the almonds have browned.