Hitting the Southwest Louisiana Boudin Trail -- a self guided tour to the world's best Cajun boudin sausage.
LAKE CHARLES, LOUISIANA, USA – Napa Valley has wine. Wisconsin has cheese. New York has pizza. Southwest Louisiana has Boudin.
For the uninitiated, boudin, a Cajun staple that's eaten for breakfast, lunch, dinner and/or snacks, is a sausage traditionally made from pork, liver, rice and spices. Think of it as a dirty rice dressing stuffed into a sausage casing.
While traditionally made from pork, you'll also find boudin made from shrimp, crawfish, and even alligator. There are mild and spicy varieties in smoked and unsmoked versions.
When in the area, be sure to also sample some Boudin Balls. No these are not the testicles of some unknown mysterious species of swamp creature, but rather boudin stuffing, minus the casing, formed into a round shape and deep fried. Mighty tasty!
The ingredients in Boudin are already cooked, so all you need to do if you're preparing them at home is heat and eat. You can boil, grill, steam, bake, or even microwave boundin until hot and enjoy.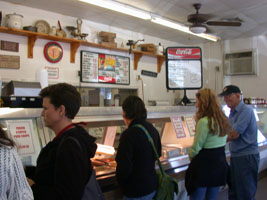 To help you explore the world of Boudin, the Southwest Louisiana Convention and Visitors Bureau has prepared a self guided driving tour that takes you to 17 of the finest of Louisiana boudin purveyors. Each producer has his own special touches – spices, the amount of time the rice is cooked, and other proprietary secrets that makes their Boudin uniquely theirs.
Along the trail you'll stop at Mom 'n Pop restaurants and markets sampling boudin and other local specialties. Go hungry and come home stuffed and satisfied.
You can get free driving tour maps by contacting Lake Charles/Southwest Louisiana Convention & Visitors Bureau website at
www.VisitLakeCharles.com
or by phoning 800-456-SWLA or 337-436-9588.