Where to Eat In and Around Sevierville, Tennessee - our favorite restaurant finds plus Dollywood's best food bet.
SEVIERVILLE, TENNESSEE, USA – A quick look as you drive around Sevierville, Tennessee will tell you this is a family travel hot spot. Likewise, you're not going to find much in the way of fancy fine dining here. Nonetheless, you can find some quality casual and family friendly fare. Below are some of our favorite picks. As usual with our food round-up articles, they are in no particular order, other than the number one position which was our overall favorite.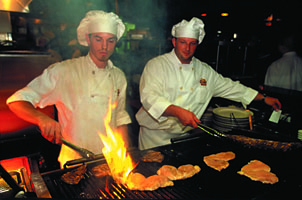 The Chop House
Our favorite restaurant pick is the upscale casual Chop House. The atmosphere is inviting, the service excellent and the menu has some creative flourishes not normally found at restaurants in this mid level price range. There are lots of interesting martinis and cocktails and appetizers to accompany them. Don't miss the Baked Scallops on the Half Shell – a Rockefeller type preparation made with fresh spinach.
The Chop House is known for steaks with good reason, the quality of the meat and its preparation are first rate. If meat isn't your thing, don't worry, the menu offers many other options including seafood, chicken and pasta dishes. You can choose from a wide variety of quality side dishes to accompany your meal – the fresh asparagus I had was cooked perfectly. Even the house salad goes beyond the call of duty, serving forth an enticing mix of greens, cucumbers, bacon, cheese and Chinese noodles. Save room for dessert (if possible) as there are some spectacular sweet endings on call to finish your meal.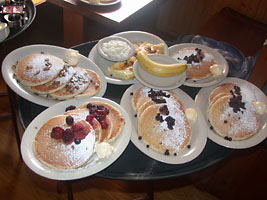 Flapjacks
I have never been one to go ga-ga over pancakes like some folks do, but even I was impressed by the quality breakfast fare at Flapjacks. You can get pancakes in nearly possible incarnation, so there is something for everyone. And if you're one of those folks who lives for pancakes, you'll be in heaven (or perhaps a pancake eater's hell in that making a single choice from so many flapjack options will be difficult to say the least).
The quality of the rest of the food matches the excellent pancakes. The prices are reasonable and the portions large, making Flapjacks the perfect way to start your day in Sevierville. They're also open for lunch.

The Applewood Farm Restaurant and Cider Mill
(pictured top of this post, and below) A small regional chain, the quality and special touches here almost remind me of those offered by the now defunct (and much missed) Bill Knapps restaurants in the Midwest.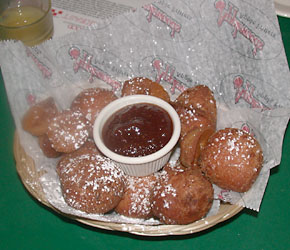 Upon being seated at this country style restaurant you're welcomed a plate of fresh hot apple fritters accompanied by a cinnamon and spice laced apple butter and an ice cold apple julep -- a non-alcoholic mixture of apple, orange, pineapple and lemon juices.
The portions are plentiful and the food is good, so if you're craving down home style southern comfort food, this is the place. Try the Southern Fried Chicken or the Chicken and Dumplings at dinner or the authentic country ham breakfast. 
This is a frugal option - the prices are reasonable, but there's so much food you'll either go home with doggie bags or not be hungry at your next scheduled meal.  All lunches and dinners come with soup – be sure to try the Vegetable Soup made with all fresh veggies. All meals, breakfast, lunch and dinner also come accompanied by the aforementioned fritters and juleps – delicious reason enough to visit in my book.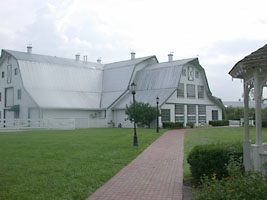 More than just a restaurant, Applewood Farm is an attraction unto itself. A genuine working farm, the Apple Barn grows and picks fourteen varieties of apples from more than 4,000 trees which become apple butter, candies, pies, ice cream and more while you watch.  The Apple Barn and Cider Mill is also home to the Apple Barn Winery and Tasting Room, Applewood Farmhouse Grill, Applewood Farmhouse Restaurant, Apple Barn General Store and new Orvis Company Store.
You'll find ample parking, making this a favorite stop of tour buses and RVers.  As they serve over one million visitors annually, this place is set up to handle big groups.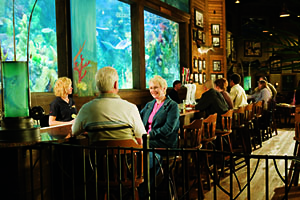 Islamorada Fish Company Restaurant at the Bass Pro Shop
Another restaurant with a tourist attraction element is the Islamorada Fish Company set in the Sevierville Bass Prop Shop. If you have never visited a Bass Pro shop before, you're in for a treat! The 130,000 square foot outdoor super store features two levels and is part local history museum, part art gallery, part education, conservation and entertainment center, and part retail store.
Dinosaur fossils and wildlife tracks are imprinted in the concrete floor. One of the store's focal points is a 30' Smoky Mountain rock bluff that showcases a dramatic 15' waterfall flowing into the 18,000 gallon aquarium stocked with over 200 fish native to the area. The water continues to flow as it drops over a pedestrian bridge that spans a 7,000 gallon trout stream where brook, brown, and rainbow trout may be seen idling in the water.
Museum quality wildlife exhibits adorn the entire store including state record fish mounts, turkeys, native waterfowl, bear, elk, and full body whitetail and bear mounts. Considered a feature animal diorama, and visible to the central portion of the store from the mezzanine, five elk look over the showroom in a scene that looks as if you were out in nature with them.  Expertsdemonstrate the art of hand-tying flies on site and assist customers in making the perfect selection. Shooters of all ages will enjoy the rifle arcade with 50 animated targets. The store also offers Outdoor Skills Workshops for adults, kids and families that will help maximize outdoor fun by teaching new skills and improving existing ones.
Merchandise selection is as impressive as the store itself so you can outfit the family for your outdoor recreation needs in one stop and have lunch or dinner too. 
Located within the 85,000 square-foot main floor you will find the 6,800 square foot Islamorada Fish Company restaurant. Yes, this is a chain restaurant located in many of Bass Pro's premier stores around the country, but is a chain that serves quality fare at reasonable prices in an interesting surrounding. A giant colorful 13,000 gallon saltwater aquarium, located directly behind the bar, serves as the dining room's focal point and the home to scores of exotic fish.
Of course seafood is the menu's focal point, but there's also enough to keep non pescatores happy. You can choose from appetizers and snacks to sandwiches to full entrees. There's a respectable children's menu too.  And what can enhance shopping for sporting goods, especially for the sports challenged who get dragged along to satisfy their significant others, than a good restaurant with a full bar on premisis.
Not too hungry but looking for a pick-me-up? The Sevierville Bass Pro shop also houses a Starbuck's.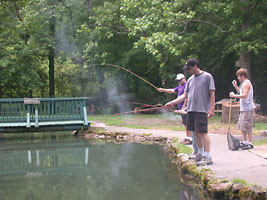 The English Mountain Trout Farm
Trout doesn't get any fresher than it does at this tiny mom and pop diner located on a working trout farm. You can catch your own trout and they'll cook it for you, although fishing isn't required, they will fish
and
cook for you.
Kids seemed to especially love the chance to fish in the small pond before settling in for a home cooked lunch. Between what they sell at the Trout Farm and supplying local restaurants, the facility goes through over 20,000 pounds of trout per year.
We met one family who's been coming here for four generations. For them the trout farm is a must stop on their annual trips to Sevierville. The kids love to fish and the adults enjoy sitting in the rocking chairs on the porch with a cold soft drink before digging in to one of the freshest fish dinners – fried or grilled, ever.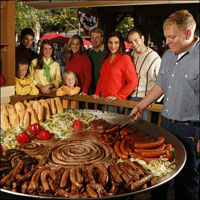 Dollywood's Best Food Bet
The best place to eat in Dollywood is also one of the most frugally priced. Skip the typical mediocre theme park fare when visiting and instead head towards the Sausage Works stand in the Rivertown Junction area of the park. Follow your nose, the enticing aromas emanating from this stand will take you right there. A variety of smoked sausages are gilled on a giant 5-foot skillet along with onions and peppers. It's all served piping hot on a fresh sandwich roll. The stand also sells delicious hand cut deep friend potato ribbons to accompany your anything-but-health-food but oh-so-delicious lunch.
Practicalities

For information about visiting Sevierville in general visit the
Sevierville Chamber of Commerce
website at
www.VisitSevierville.com
.


The Chop House
is located at 1649 Parkway Drive in Sevierville, TN 37862. Phone 865-774-1991 or visit their website at
www.TheChopHouse.com
.
Find
Flapjacks
at 1016 Parkway Dr. in Sevierville, TN 37862. Phone 865-774-5374.

Applewood Farmhouse Restaurant and The Apple Barn and Cider Mill
are located at 250 Apple Valley Road in Sevierville, TN 37862. Phone 865-453-9319 or visit their website at
www.applebarncidermill.com
.

Islamorada Fish Company Restaurant at the Bass Pro Shop
is located at 3629 Outdoor Sportsman Pl in Kodak, TN 37764. Phone 865-932-5600 or click to
www.basspro.com
.

The English Mountain Trout Farm
can be found at 291 Blowing Cave Rd (just down the way from Forbidden Caverns, so at makes a good place to eat after caving) in Sevierville, TN. Phone 865-429-5553.

Dollywood
is located at Dollywood Lane in Pigeon Forge, TN 37876. Visit the Dollywood website at
www.Dollywood.com
.