Where to Eat In and Around Holland, Michigan - restaurant picks including traditional Dutch fare, fine cuisine and casual snacks and micr brews.
HOLLAND, MICHIGAN, USA – Visitors looking for something good to eat when visiting Holland, Michigan might expect to find an array of Dutch restaurants to choose from. They'd be wrong. While there are a wide variety of good restaurants, and a great microbrewery in the area, there is, surprisingly, only one place to go for Dutch food in Holland.
Read on for our picks of favorite spots to eat in and around Holland, Michigan. See the Related Travel Links below this article to check out the great things to do, see and eat in nearby Grand Rapids, Michigan as well.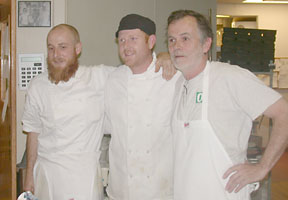 The De Boer Bakkerji and Dutch Brothers Restaurant
Holland's only authentic Dutch restaurant and bakery serves high quality homemade fare made the old fashioned way, completely from scratch.
Jakob De Boer came to the United States in 1956 at the age of four. A fourth generation Dutch baker, Jakob learned the business from his father, the same way he has taught his sons Samuel and Mitch, who work side by side with him every day.
For Samuel, the appeal of his job comes from taking very basic ingredients and transforming them into something spectacular. The public undoubtedly agrees, with locals crowding the shop each day to purchase the family's world class home made breads, pastries and cookies.
The Dutch Brothers Restaurant attached to the DeBoer Bakkerji is a casual, family friendly place that serves up hearty sandwiches, homemade soups and salads, and filling entrees. In addition to standard coffee shop type fare you can get some Dutch favorites like Pigs in a Blanket and De Boer's famous Pea Soup. The portions are huge and the prices reasonable, and everyone in your party is sure to find something on the menu they will enjoy. Save room for dessert or take some to go, but either way don't miss out on De Boer's out-of-this-world baked goods.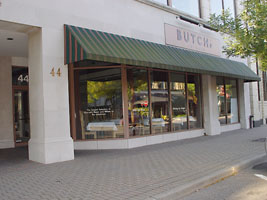 Butch's Restaurant
Depending on when whether you visit during the day or at night, my favorite place to eat in Holland, Butch's Restaurant, will have distinctly different personalities. By day they serve casual fare and to-go deli style favorites. There are even kid friendly options.
You can still get casual fare in Butch's pub at night, but the restaurant goes upscale in the evenings with creative cosmopolitan fare expertly prepared to order.
Diners can choose from a variety of fresh meat and seafood specials each evening, along with innovative appetizer, soup and salad courses. It's hard to pick out stellar dishes when everything we ordered was excellent, but small touches such as different flavored compound butters served with hot breads each evening, sets Butch's apart even from other high caliber restaurants.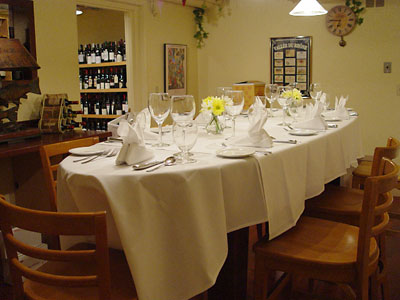 As much as for the food, this restaurant shines when it comes to drinks, especially beer and wine. There are always seven beers on tap – a variety of domestic, imported and microbrews, in addition to several hundred more bottled varieties kept cold and ready in the cooler. A Wine Spectator Award of Excellence Award winner, Butch's extensive wine list is unparalleled in Western Michigan, with over 700 labels to choose from representing wine producing regions the world over.
If all the beer and wine choices on the menu aren't enough, part of Butch's restaurant includes a well stocked retail beer and wine shop. Forget restaurant mark ups. Any of the wines bought at Butch's shop can be enjoyed at your table for a mere $5.00 corkage fee, making Butch's one of the most affordable ways you'll ever find to enjoy a truly exceptional bottle of wine with your equally exceptional meal.
After experiencing an evening at Butch's, it's easy to surmise that owner Butch Ter Haar is himself a passionate foodie and oenophile (he even takes groups of tourists on food and wine tours of Europe). But what makes this restaurant such an outstanding place to go, whether for fine dining or a casual snack and a drink, is that Butch seems to have imbued every member of staff with that same passion. They discuss food, wine, and beer as animatedly as others discuss sports, or politics, or religion. And in my experience, that kind of passion always translates to a great restaurant experience.
Alpenrose Restaurant
Another place whose personality changes after dark, the Alpenrose restaurant is housed in what was once downtown Holland's Woolworth's store, but there's nothing five and dime about this stylish café, restaurant and bakery.
In the mornings and afternoons, go in for a hearty breakfast or quick lunch, or a cappuccino and dessert at the coffee bar and bakery. In the evening the restaurant stays true to its "alpen" theme with fare from the counties those mountains traverse: Italy, France, Germany, Switzerland and Austria. There are also a nice variety of small plates, steaks, and a respectable selection of vegetarian choices.
This is a large facility that can handle big parties or banquets in its private dining rooms, as easy as it can a romantic dinner for two in its cozy blond wood paneled dining rooms. Regardless of the time of day, if you're hungry, the Alpenrose has got you covered.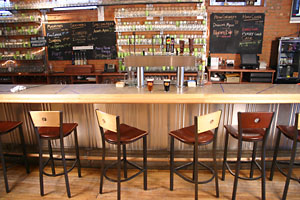 New Holland Brewing Company
Also downtown is the New Holland Brewing Company. With a name like that, you can expect outstanding microbrewed beers and New Holland does not disappoint.
Until recently the fare consisted of standard pub type sandwiches and snacks, they've now hired a new chef who promises to bring the food up to the quality of the beers. He's creating creative dishes specifically designed to pair with New Holland's wide variety of microbrews. It sounds promising, but the beers are so good the chef has a lot to live up to. Time will tell.
In the meantime, even the sandwiches and pub fare are high quality, with some nice touches such as in house cured corned beef. You'll always find between three and six beers on tap, and the in-house brew master, who loves to experiment, almost never makes the same beer twice. No worry, New Holland's classics are always available in their bottled incarnations.
Artisan Cooking School
For a unique meal that you'll be able to recreate again and again in your home kitchen, consider enrolling in a class at Grand Haven's Artisan Cooking School. Students work with expert instructors to actually create the meal that the group will eat. It's not only educational, it's a whole lot of fun.
My group attended one of the pasta classes and learned to not only make terrific sauces, but real from scratch pasta too. Everyone enjoyed getting to know new friends while cooking and consuming the excellent pasta lunch, and they now all have the ability to go home and turn out a dinner that will leaves their friends and family marveling at their lofty culinary skills.
The Artisan Cooking School offers a variety of classes for different interests – there's even one for kids. Check their website for details and be sure to make reservations in advance.

Check out the Related Travel article links below for details of our favorite things to do see and eat in and around Holland, Grand Haven, and Grand Rapids, Michigan.
Practicalities

The DeBoer Bakkerji and Dutch Brothers Restaurant
is located at 360 Douglas Ave. in Holland, Michigan 49424. Phone 616-396-2253.
Butch's Restaurant
can be found at 44 E. 8th St. in downtown Holland, Michigan 49423. Phone 616-396-8227 or visit their website at
www.butchs.net
.
The New Holland Brewing Company
is located at 66 East 8th St. in downtown Holland, Michigan 49423. Call 616-355-6422 or visit their website at
www.NewHollandBrew.com
.
Alpenrose Restaurant and Café
is located at 4 East 8th St. in downtown Holland, Michigan 49423. Phone 616-393-2111 or click to
www.AlpenroseRestaurant.com
.

The Artisan Cooking School
is located at 1322 Washington Ave. in Grand Haven, Michigan 49417. For information or reservations call 616296-9200 or click to
www.ArtisanCookingSchool.com
.
For more information about visiting Holland, Michigan, visit the
Holland Area Convention and Visitors Bureau
website at
www.Holland.org
or phone 616-394-0000.
For more information about visiting Grand Haven, Michigan, check out the
Grand Haven/Spring Lake Area Convention and Visitors Bureau
website at
www.VisitGrandHaven.org
.
For information about visiting Michigan in general, check out the official
Travel Michigan
website at
www.Michigan.org
or phone 800-373-2489.