Consumer product review of the Zip n Go All-In-One Outdoor Blanket and Tote.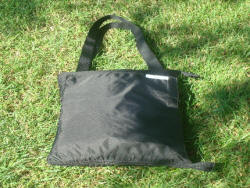 The brainchild of an entrepreneurial Mom whose son hated the feel of wet sand on their blanket at the beach, the Zip N GO Blanket is a handy item to keep in your car for a variety of occasions including picnics, visits to the aforementioned beach, outdoor concerts, and more.
The ingenious thing about this high quality, highly water resistant blanket is it that it becomes if own easy to carry tote bag with a large outside pocket and inside security zip pocket where you can carry your keys, drinks, snacks, magazines, diapers, toys, and anything else you may need for a fun day outdoors.
Manufactured in the USA, the Zip-n-go Blanket  is made with Premium Velour Anti Pill Polar Fleece that keeps you comfortable while the Urethane coated nylon lining keeps you dry.  (we even used it for a picnic in the snow.)  YKK Zippers wrap it all up into one neat, lightweight package.
Whether you need a waterproof blanket , picnic blanket, stadium blanket, pet blanket , or a baby play blanket , the Zip-n-go Blanket the  is perfect choice. There are 12 colors and styles to choose from and every one comes with a 100% Satisfaction Guarantee!
For more information click to
www.zipngoblanket.com
.