Consumer Product review of BaconFreak.com Bacon, Pancakes, and other products.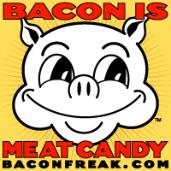 True to their motto "Bacon Is Meat Candy," BaconFreak.com, features a wide variety of different "flavored"  bacons -- Spicy Jalapeño bacon, Apple Cinnamon bacon, Barbecue bacon and many others.  Those who love bacon will have a great time sampling all the varieties available as well as shopping for accessories and novelties and all manner of other things bacon.
We sampled several flavors, used them in recipes and as breakfast meats and liked the quality, especially the fact that Bacon Freak bacon had significantly less fat than store bought varieties.
But even more than the bacon
we LOVED BaconFreak.com's Maple Bacon Pancake Mix!
At first we were skeptical of a pancake mix that contained hickory smoked bacon bits and maple chunks.  Skepticism was gone with the fist bite of these addictively good pancakes.  Warning, once you taste them, you'll become addicted to their amazing flavor too.
If you need a gift for a bacon lover in your life, BaconFreak.com offers a Bacon Club that regularly delivers a smogasbord of bacon to the lucky recipients.  Gourmet freaks can even opt for the Wine and Swine Club that pairs bacon with exclusive California boutique wines.
For more information, click to
www.BaconFreak.com
.