Buying and Storing Walnuts -- Includes tips for buying, storing and cooking with walnuts, one of the world's healthiest and most delicious foods.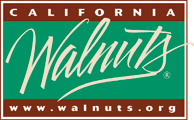 Go Smart with California Walnuts Smart Menus Program:
Delicious, convenient recipes aimed at changing the way Americans eat, brought to you by best-selling author and Oprah regular Dr. Michael Roizen and James Beard award-winning cookbook author Mollie Katzen. Smart Menus is designed to help people embrace a smart eating style that's long on taste and convenience and short on scolding. Smart recipes and tips on how to create your own smart eating style are available at
www.walnuts.org/smartmenus
.
---
Walnuts are one of the healthiest (and tastiest) foods you can and your family can eat. Our walnut feature will show you why. You'll also learn how and when to buy the best walnuts, how to store them for the longest possible shelf life, and lots of a fabulous recipes to make with them. We've even included fun walnut facts and trivia, should you want to add to your trivia knowledge.  After reading this page, be sure to check our the Related Articles and Related Recipes sections below for the rest of our comprehensive walnut coverage.
Buying and Storing Walnuts
Fresh walnuts taste and smell sweet and mildly nutty. When walnuts are harvested, handlers keep them in cool, dry storage until they are shipped to retail stores.
Walnut meats naturally come in different shades, from the extra light to darker amber colors. This is part of nature and doesn't affect quality. You will find dark and light walnuts on the same tree or in the same orchard. In general, commercial bakeries prefer the lighter shades because their appearance is often more desirable. On the other hand, ice cream companies prefer the dark shades because they often have a more intense flavor.
Ninety-nine percent of walnuts grown in the United States are grown in California specifically throughout the Central Valley of California and in Coastal Valleys, from Redding in the north to Bakersfield in the south. California walnuts are also known as English or Persian walnuts.
The black walnut, on the other hand, is a Native American species. Currently the black walnut is used mainly as a rootstock for English walnuts. The meats are tasty, but a lot of work to crack and remove from the shell.
There are over 30 varieties of walnuts grown in California; however, two varieties—Chandler and Hartley—account for nearly 60 percent of total production.
In-shell Walnuts:
Available in bags or in bulk

Best Seasons – fall and winter

To preserve freshness, crack right before using
Shelled Walnuts:
Available in bags or in bulk

Sold as halves, halves and pieces, pieces, and chopped, among other forms
Walnut Storage Tips
Store shelled walnuts in a sealed container in a cool place, with low moisture and away from sunlight. Refrigerator storage is good, but if you have larger quantities, freezer storage is best. Walnuts from opened packages keep well for up to six months when they are cold (refrigerator) stored in sealed containers. Walnuts are good to eat when opened for up to a year when kept in the freezer.

Cold is the walnuts best storage friend. Walnuts go rancid when exposed to warm temperatures for long periods of time. Heat causes the fat in walnuts to change structure, which creates off odors and flavors. Fresh walnuts smell mildly nutty and taste sweet. If your walnuts smell like paint thinner, you know they're rancid. And if they're rancid, you should throw them away!
If you buy walnuts in sealed packages, you can store the walnuts in that original packaging. Once you open the bag, transfer the walnuts to an airtight container to maintain freshness.
If you buy bulk walnuts, either in-shell or shelled, place the walnuts in an airtight container for long-term cold storage.

When storing walnuts in your refrigerator, store them away from foods with strong odors (e.g. fish, cabbage, onions) as walnuts can absorb the flavors of other foods.

One final tip: Wait to shell or chop walnuts until you're ready to use them. The same applies for ground walnut meal; don't grind your walnuts until you're ready to add the walnut meal to your recipe. This will help maintain great flavor.
To learn more about Walnuts, check out the other parts of this Ingredient Feature: