An interview with and recipes from best selling author Holly Clegg of Trim and terrific cooking fame.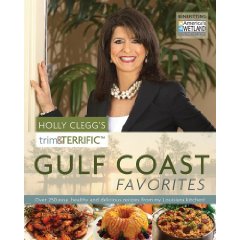 Readers of this site have long been fans of Holly Clegg and her Trim and Terrific® cookbooks.  Holly has been generous in her contributions of recipes and articles to this website over the years, and her pieces have always proved popular with our readers.
Holly is never one to sit still.  It seems one cookbook is no sooner released, than the next one is ready.  In order to keep our readers up to date with the ultra busy Holly, FabulousFoods.com editor Cheri Sicard talked with her about her latest projects, especially her newset book Trim and Terrific Gulf Coast Favorites, and why this book is partocularly near and dear to her heart.
(To acess the recipes and articles Holly has shared with us through the years, please see the Related Articles and Related Recipes sections below.)
Cheri Sicard:
First of all congratulations on your new book, Gulf Coast Favorites. I lived on the Mississippi Gulf coast for years during my high school and college years and loved the food and abundance of great ingredients, especially the seafood. I know your book encompasses a lot of Louisiana cooking as well as favorite recipes from all the Gulf Coast states. But I know you had a special inspiration for writing this book that goes beyond the ingredients and recipes. Can you tell us about the cause behind the book?
Holly Clegg:
Think about this! Louisiana's coast is disappearing at the alarming rate of 25-35 square miles per year. The Gulf of Mexico is critical to the nation's energy supply, much of the continent's waterfowl population winters along the Gulf Coast, and this area supplies 30% of the nation's seafood. This coast is the home to America's Wetland, one of the largest and most productive expanses of coastal wetlands in North America. I realized how important the WETLANDS are from an ecological, economical, and natural habitat perspective. I have partnered with the America's WETLAND Foundation whose mission is to raise public awareness of the state of America's Gulf Coast.
Throughout the book, I have included facts highlighting the importance of America's WETLAND and the Gulf Coast region to America. Living in Louisiana, I realize the value of our seafood, local ingredients, and resources in the gulf and this region. Louisiana favorites and southern specialties in the book include Shrimp Enchiladas, Crab Nachos, Southern Biscuits and Gravy, Chocolate Pecan Pie….plus so much more. This Trim and Terrific cookbook can make a difference to the WETLANDS and to your health. Portions of the proceeds from the sale of the cookbook will be donated to the America's WETLAND Foundation
Cheri Sicard:
All of your books feature Trim and Terrific or light recipes, but many of your books have special health focuses, such as cancer prevention and treatment, and diabetes. How did you start developing these recipes? Did you have to deal with these issues in your own life?
Holly Clegg:
I initially started my Trim and Terrific cookbook series because of my commitment to a healthy lifestyle and good health. My personal experiences dealing with cancer and diabetes led to my focus for these specialized cookbooks. My Father was diagnosed with larynx cancer almost at the same time, oncologist, Dr. Gerald Miletello approached me about writing a cancer cookbook. He said his most often asked question was, "What can I eat?"
After doing research, I realized there weren't any practical books dealing with cancer and nutrition. My Father always had an appreciation of food, and I wanted to give him and others the tools to be able to eat while having treatment, as food is comfort, energy and nutrition. For my dad's 70th birthday, I prepared recipes from the Sore Mouth section. There are foods that are better tolerated and ease the symptoms while undergoing treatment, and with this book, my goal was to provide easy, everyday family-friendly recipes for people with cancer.
There are a multitude of books written how to prevent cancer, but this book is specifically for people with cancer. Eating Well Through Cancer: Easy Recipes for During and After Treatment has been my most rewarding endeavor as I am able to provide comfort, guidance and recipes to help people during this crisis time.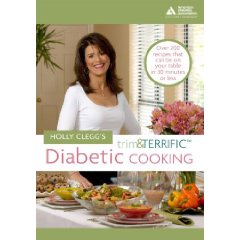 I vividly remember my diabetic grandmother measuring her limited selection of food and giving herself insulin shots. When the American Diabetes Association approached me about writing the Trim and Terrific Diabetic Cooking book, I was flattered and excited, but more importantly, I felt I could make a difference in the way diabetics approached their daily meals. The statistics are overwhelming with the amount of people who have diabetes. There are 20.8 million children and adults, 7% of the population! Also, there are 6.2 million people unaware they have diabetes and eating a healthy diet, such as in this book, may help prevent diabetes.
I think my easy everyday approach to cooking will enable people to cook time-friendly, pantry friendly , and user friendly recipes with lots of flavor and variety, appealing to everyone at the table, with diabetes or not. I am passionate about cooking and food; therefore, each recipe in the book supports proper diabetes management and extraordinary tasting simple-to-prepare recipes.
Cheri Sicard:
You are known as the Trim and Terrific lady. Do you have favorite general tips that our readers can think about in the kitchen for lightening traditional fat and calorie laden recipes?
Holly Clegg:
My philosophy is you never have to give up any food. "I trim the recipe down and keep it terrific!" You don't have to change what you eat, but just change how you prepare it. Easy to do by substituting lower fat products, selecting leaner cuts of meat, reducing butter in recipes and using more canola and olive oil.
I think an easy way to insure a healthier lifestyle is to eat with color. Enhance your food by adding fruit in salads and cereal, and tossing leftover vegetables in soups, salads and pasta. So, I have decided Chocolate Covered Strawberries, Cranberry Yam Banana Bread and Chocolate Zucchini Bread all have a nutritional purpose!!
Cheri Sicard:
One of the things we like most about your books is that they make cooking easy and accessible to everyone, even those who are just learning to cook. What are your favorite tips/techniques and/or tools for keeping things easy in the kitchen?
Holly Clegg:
I am aware that today's busy person doesn't have time to cook, therefore, I make sure my recipes include one-stop shopping (no specialty items), and pantry-friendly ingredients. In my cookbooks, I always include a Pantry Stocking Guide as I believe "a well stocked pantry functions as a permanent shopping list. So, when you rush home, you will be able to use my easy, healthy and delicious pantry-friendly recipes to prepare a family meal. You don't have to have a big kitchen or special tools as I pride myself as a mainstream cookbook author guiding you to be able to cook successfully and efficiently at home. And, besides, if my recipes were too complicated, my sister would let me know as she doesn't like to cook and relies on my books!
Cheri Sicard:
Another thing that impresses us about your recipes is that many of them are suitable for quick and easy entertaining. In fact, your entertaining book is my personal favorite of all your books. We're about to enter the holiday season when everyone gets frazzled. With the stress of financial woes plaguing the country, many experts are predicting that entertaining will be down. Do you have any entertaining advice would-be hosts, hostesses this year who simply can't afford to break the bank?
Holly Clegg:
If a chocolate soufflé falls, you serve it as chocolate pudding….you don't start over!
If you don't have an ingredient, you leave it out, don't run back to the grocery store.
STRESS! Get rid of stress in the kitchen as cooking is creative with no right or wrong. I think people put unnecessary pressure on themselves in the kitchen when most people are thrilled to be invited into the comfort of a home.
My entertaining book consists of my 30 minute recipes divided into parties…so you are right about it being practical…no fancy and fuss for sure!
An idea for an inexpensive party this holiday season is a dessert party. With the hectic holiday schedule, most people can easily pop in for dessert. A dessert selection is less costly but can be equally impressive. Prepare your sweet specialties (cakes, pies, pick-ups, trifle) and order the desserts you don't want to make. Have holiday themed paper products for easy clean and a festive atmosphere.
For drinks, a coffee bar is fun and popular and serve champagne with a strawberry in the glass. You can impress without the stress!!
Cheri Sicard:
What's next for Holly Clegg and where can our readers go to keep up with your many television appearances and magazine articles?
Holly Clegg:
You definitely have to go to my website, www.hollyclegg.com and register for my popular Monthly Menu Newsletter. Each month, I include seasonal recipes, tips and ideas for fun and fabulous cooking. I always include my media schedule, new opportunities and anything exciting in my life, one month my child's wedding.
My new exciting endeavor is Trim and Terrific™ Mobile Rush Hour Recipes for blackberry and we are awaiting approval for iphone. Delivered to your phone, an easy daily healthy and delicious recipe with photo, shopping list, directions and nutritional information for the person on the go who doesn't have time to cook or struggles with the daily dinner dilemma.
Statistics say 65% of the people at the grocery don't know what they are preparing for dinner and don't have a list, so I think Mobile Rush Hour Recipes offers an easy dinner solution. Remember when you eat Trim and Terrific™, you stay Trim and Terrific™. You can sign up for Mobile Rush Hour Recipes at: www.terratial.com/mrhroffers/mobilerushhourrecipes/index.htm.
Shop for Holly Clegg's books at Amazon.com.