Consumer review of the HT Naturals Kitchen Apron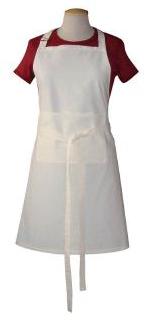 We loved Hemptown's sturdy kitchen apron. This apron is a unisex, one size fits all garment with a deep center front pocket and extra long ties (Lenth 33" Width 29" ). The Hemptown Apron is made of 55% Hemp and 45% Cotton Muslin and features an adjustable neck strap for the perfect fit. The fabric is soft, comfortable, eco-friendly and durable. What more could you want from a kitchen apron?
For more information or to order, click on www.HTNaturals.com.