Consumer product review of Kuhn Rikon Easy Lock Corn Tongs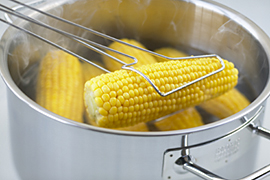 If you love corn on the cob and you make a lot of it, then this is a worthwhile kitchen tool. It does the job well, although we do have to wonder if a separate pair of tongs just for corn is really necessary, especially when regular tongs have always done the job quite well.
True, these tongs can also be used for other cylindrical shaped foods like hot dogs and sausages, but we found them a little awkward for other foods.
But if you;re a corn fan, this is a quality, dishwasher safe gadget, constructed of 18/10 stainless steel. The 16 inch long tongs keep your hands far from the heat and come with a locking mechanism that hrefeases and locks easily with the press of a thumb for ease of use and compact storage in a drawer.