Consumer product review of Cup-A-Cake Cupcake Containers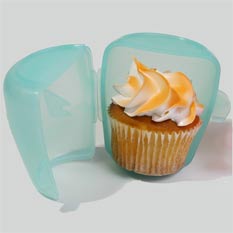 I love ingenious little gadgets like this. This small plastic contain holds a frosted cupcake safely intact and upright until its lucky recipient is ready to devour it. It's easy for little hands to open and close and it doesn't matter if it rolls around, the cupcake inside stays perfectly intact with a perfect frosted top.
It's ingenious and works well. That said, I don't know too many people for whom transporting cupcakes is a big enough priority that it requires extra kitchen accessories, but if you're that person, this is a great find!
For more information or to order, click on www.cupacake.com.