Hot Air Ballooning in Taos, New Mexico. This is an unforgettable way to see the spectacular scenery of Taos and the Rio Grande River Gorge.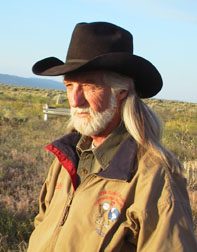 TAOS, NEW MEXICO, USA -- Taos is a small town tucked away in the New Mexico mountains that has, for years, attracted a mixed bag of people ranging from D.H. Lawrence to another D.H.: Dennis Hopper. Eclectic is chic in this land of sage brush, sapphire blue skies and serious individualists, so it only makes sense that Taos is also home to Johnny Lee Lewis. Lewis is a transplanted Texan who was drawn to the region not only by its beauty but by its winds.
Lewis is a hot air balloonist. Not just any balloonist, mind you, but a long, tall, tale-telling cowboy of a balloonist. With flowing white hair, clean-trimmed beard and an ever-present ten-gallon hat, he looks less like an aviator and more like an Indian scout. Lewis owns the Pueblo Balloon Company, which regularly takes customers on unforgettable flights over the Taos region.
It would seem that Albuquerque, home of the famous International Balloon Fiesta every fall would be the prime destination for ballooning in the Southwest, but, while Albuquerque has the name recognition, Taos has the Rio Grande Gorge. The Gorge is a huge crack in the earth that descends as much as 800 feet below ground. The tall, citadel walls are steep, the rocky terrain is rugged, the Rio Grande River is a raging current of white water, and Lewis takes customers in the middle of all of it in his balloon.
The balloon takes off from nearby flatlands dominated by sage brush, prairie dogs and an occasional coyote or two, and rises several hundred feet to take advantage of the steering wind currents in order to float the balloon towards the Gorge. Once over the Gorge, the ground falls away, creating an instant relative altitude of well over 1000 feet in the air. The view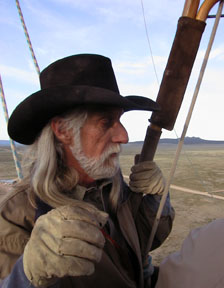 is spectacular, but it only gets better, as the balloon descends below the rim of the giant crack created by an ancient earthquake, and Lewis (or his second pilot, Rocky Sullivan) maneuvers through the rugged rock walls to bring the lighter-than-air craft to a position just above the raging Rio Grande. Then, with several bursts from a propane flame, the balloon rises up, pops out of the canyon and once again uses the prevailing winds of the flatlands to drift to a safe landing area.
The ride into the canyon is enough of a rush, but to add to the adventure, there's the ever-present Johnny Lee Lewis, whose specialties, besides balloon piloting, include ribbing and joshing. Prime example: When I asked him how much a balloon ride was per person, he said, "Going up is free, coming down will cost you $225."
In spite of his Wild West ways, Lewis is a stickler for safety. He has 30 years of ballooning experience and a spotless safety record, which is pretty remarkable considering this includes his first flight in a home-made balloon. Fascinated by ballooning the young Lewis decided the only way he was going to get to fly a balloon was to make one. Lewis enrolled in a Home Economics class at his high school in order to learn how to sew and then used his new-found skill to stitch together enough fabric to fashion a (hopefully) air-worthy balloon. The resulting creation wasn't pretty: a lop-sided air ship with no basket--Lewis skipped this basic accoutrement by suspending himself from two ropes hooked under his arms. Instead of a proper propane burner, Lewis dug up a torch that was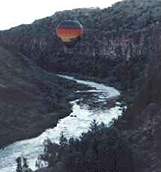 normally used to singe needles off prickly pear cacti. The torch proved more than adequate, however, because, on his first flight the flame blast quickly shot Lewis to over 1000 feet into the wild blue yonder. Fortunately, his landing was safe, and his future was sealed.
Today, Lewis goes all over the world piloting balloons. He has even flown archaeologists over the pyramids of Egypt in order to help them map the Valley of the Kings for the National Geographic Society. It was also a feat that landed him in jail because the local Egyptians, being unfamiliar not only with hot air balloons but also American cowboys, held him under arrest until they could figure out what he was.
Despite his adventures across the globe, Lewis always returns to Taos because, for him, hot air ballooning just doesn't get any better than the run through the Rio Grande Gorge.
Practicalities
The total Rio Grande Gorge adventure usually takes about four hours, and flights are normally scheduled for early in the morning. Four passengers are allowed per flight. Layered clothing is the best dress, since the day can quickly warm up. Opened toed shoes and high heels are not allowed in the balloon basket. Coffee and pastries will be available before the flight and a champagne brunch will be served after the balloon ride, with riders invited to participate in a celebration ceremony of the flight.
Reservations are made between June and October. To make a reservation or request more information, call (505) 751-9877 or visit the website: www.puebloballoon.com.
---
L.A. Jackson is a freelance writer based in Raleigh, North Carolina. When he's not having adventures like this one, L.A. specializes in gardening.