Exploring the Other Side of Israel. Join budget travel expert Tim Leffel as ventures away from the holy land to a rugged desert, a Mediterranean coastline, and the bizarre Dead Sea

(Editor's Note: This article was written circa 2000. Conditions and details have undoubtedly changed.)
Israel. Never has a country been built on such emotions and mixed feelings, then continued that way for every year of its tenuous existence. This nation has never been regarded with indifference, been a meaningless trivia game question, or been some unpronounceable hot-spot forgotten by all but the news junkies. Israel couldn't stay out of the spotlight if it tried. This is the only place in the world where a fist fight in the streets is international news.
Of course that's not why people come. They continue to come in spite of the political problems. They come to see the Holy Land, to be at the heart of the Jewish faith, or just to see Jerusalem: a 3000-year-old symbol of the convoluted history this land has gone through.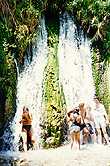 But there's much more to this country than most people know. It's the size of New Jersey, but far more diverse. Imagine driving up the New Jersey Turnpike, leaving a beach with swaying palms at the southern end and ending up in lush mountains amidst vineyards and orchards in the north. In between are a rugged desert, a Mediterranean coastline, and the bizarre Dead Sea.
The Dead Sea


The Dead Sea is one of those spots on this planet that turns logic on its head. Here at the lowest spot on Earth (400 meters below sea level), it takes hours to get a sunburn, the water is so salty that no life exists in it, and it's impossible for bathers to sink. In the water, visitors lie on their back, sometimes reading a book, feeling like they're on a slimy waterbed. The Dead Sea mineral mud that is available at health spas and beauty shops for a fortune is free for the smearing here.
Most of Israel's Dead Sea hotels are located on the shallow southern area, since the rest of the sea abuts the politically thorny West Bank. However, there are simpler hotels and a youth hostel located near the Ein Gedi Nature Reserve, an oasis of wildlife, plants, springs, and waterfalls on the edge of the sea.
While the surrounding cliffs are reminiscent of the America of classic westerns, the valleys are an Eden of greenery and animals. The various hikes through the reserve are like something from a hiker's wish list: every time bodies start getting hot and sweaty, there's a spring, a shady spot, or a cascading waterfall to cool off in. Many of the animals are not shy, so it's easy to spot ibex, hyrax (a kind of wild guinea pig), and various reptiles and birds.
Alpacas, Llamas and Camels, Oh My!


Southwest of this area lies the sprawling Negev Desert, containing Mitzpe Ramon. This is the town perched on the lip of a 8 km wide by 40 km long natural crater known as Maktesh Ramon. It's a breathtaking sight to be sure, but visitors who have the time can delve into the geological wonders within the crater by hiking, taking a jeep, or going on a horse or camel safari. The Ramon Inn offers a variety of exploration programs, as does the Society for the Preservation of Nature in Israel (SPNI).
Lying a few miles out of town is one of those incongruous spots that's worth visiting just because it's there. It's a working alpaca farm containing over 300 alpacas, 50 llamas, and a dozen or so camels. It was started nine years ago by a couple who dreamed of owning a farm. They brought a boatload of animals over from Chile and began breeding them, a slow process since the animals only produce one child at a time. The owners eventually began selling wool, making and selling sweaters, and hosting groups of curious visitors and school groups. They also do trips into the crater, with llamas carrying the children and camels carrying the adults.
Haifa, Acco and Safed
Up the coast, past Tel Aviv, is Haifa, Israel's third largest city. It is ignored by most tourists, but is a pleasant town on a shady mountain facing the sea. While there is not a wealth of sites here, the stunning Bahia temple complex alone is worth a stop. The various buildings and terraced gardens are as interesting as the peculiar religion itself.
Twenty minutes up the coast is Acco (also spelled Acre), an old Ottoman port city which still has a large Muslim population. This is one of the few places outside of the occupied territories where visitors can walk through a real Palestinian market and sample some flavorful non-kosher food.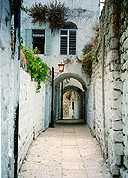 After heading east, a long spiral up mountain roads leads to Safed, which is also known as Tsfat or Tzefat. It is the highest town in the country and in many ways the most spiritual, attracting deep religious thinkers and Kabbalistic mystics. There is also a thriving artists' quarter. The cool mountain air, clear views, and rustic cobblestone streets make it the most atmospheric town outside of Old Jerusalem.
Sea Of Galilee
Nearby is Lake Tiberias, historically the Sea of Galilee. While many religious sites are located in this area, it is worthwhile to get away from the tour buses and explore the countryside. These verdent green lands supply much of the country's produce and there are several nature reserves that provide cool, pleasant hikes. A majority of the kibbutzim are also located here and some have hotels on their property. Visitors can learn more about the kibbutz lifestyle without putting in a whole summer of free labor as a volunteer.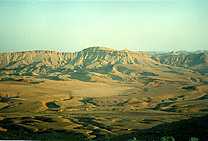 To the far north are the Golon Heights. A visit to this area makes it obvious why Syria so badly wants this land back: it's not only excellent farm land, but is also a major source of water. If you can ignore all the "Caution Land Mines" signs, rides through the countryside here are spectacular.
With this country having one of the world's worst auto accident rates, the best way to get around is on the comfortable, efficient public bus system. If you'll be doing a lot of traveling, it's worthwhile to get an Israpass, a pass allowing unlimited bus rides for a 7 , 14 , 21 , or 30 day period.
Yes, Jerusalem is a special place and Tel Aviv has a great beach, but get away from all the standard tourist sites and you'll see how much more there is to Israel. Then next time you hear about this troubled place on the news, you'll have memories of places where the soldiers are not so plentiful and the CNN cameras are far away.
Practicalities
Hotels
(Country phone code is 972)

DEAD SEA: The Hyatt Dead Sea Spa and Resort (7-659-1234) is one of the top hotels in the country--the best outside of Eilat. Even the standard rooms are huge and filled with extensive and innovative luxuries. Service is excelent, the cuisine is top-notch, and the spa boasts every pampering treatment in the book--and plenty you've probably never heard of as well! Approximately $176--$275 as of this writing.
MITZPE RAMON: Ramon Inn (7-588-822)is a simple, but well-managed hotel within walking distance of the massive crater. Studio rooms are basic but comfortable, while large groups or families will enjoy the reasonably-priced two-bedroom suites. The food here is renowned throughout the country and the hotel sets up many interesting excursions into the crater. Approximately $90--$225 (suites.
SAFED: The Rimon Inn (6-699-4666) is a different hotel entirely, a cozy romantic retreat perched on a hillside in Safed. Housed in old Ottoman buildings and facing the mountains over lush gardens and fruit trees, it's a rare atmospheric gem in this very new country. Many Israelis who can afford to go anywhere cite this one as their favorite hotel. $75--$175
ROSH PINA: Mitzpe Hayamim (6-999-666) is a unique vegetarian spa located in the hills near Rosh Pina, close to Lake Tiberias. While the excellent home-grown and home-made food is more likely to make visitors gain weight than lose it, there are plenty of exercise options. A calm atmosphere pervades, with beautiful scenery, fountains, a hillside pool, lots of fish tanks, and guests parading around in bathrobes. $140--$320
Ayelet Hashahar Kibbutz Guest House (6-923-611) is the best kibbutz hotel in the north. The lawns and gardens are impeccably kept and there are many tours and lectures to acquaint visitors with the philosophy and set-up of a kibbutz. A-cup rooms are spartan but nice, there are plenty of activities, and the rates are quite reasonable for this country. $85--$125
JERUSALEM:The American Colony Hotel (2-628-5171), an oasis in East Jerusalem, is steeped in history and character. It has long been a favorite of journalists, novelists, and other assorted travelers who shun the faceless chain hotels. Service and decor are top-notch however, while recent renovations have added more room amenities. The beautiful gardens make it easy to forget what a troubled chunk of land you're sitting on. $95--$300
Dan Pearl Jerusalem (2-622-6666) is a brand new hotel, the latest member of an excellent Israeli chain. Literally a stone's throw from the Old City walls, its perfect location is supported by what are easily the most stylish and aesthetically-pleasing guest rooms in town. It also contains a mikve bath and is glatt kosher--proof that you can serve even the strictest Jewish clientele without being staid and conservative. $130--$275
Palatin Hotel (2-623-1141) is a small, European-style city hotel located in the heart of West Jerusalem. It's walking distance from Jaffa Gate, but in the best area for restaurants and night life. It's a simple cozy place with nice air-conditioned rooms and is owned by a very friendly local family. Around $95 BB for a double, it's a great value.
---
Tim Leffel is a freelance writer who just spent five months traveling through northern Africa and the Middle East, before spending a year teaching English in Korea. He now resides stateside in between adventures.