Fun on the Kern River - Hospital Flats Campground, California. Check one of the best riverfront campgrounds in California.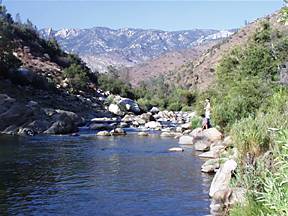 KERN RIVER, SOUTHERN CALIFORNIA -- The campgrounds at Hospital Flats vary from cool and shaded to hot and sunny. Of the 40 sites within the campground the 12 along the river are by far the best.
The waterfront sites are well covered by the surrounding foliage and offer natural protection from the 100° F plus summertime heat. To get one of these coveted sites requires advanced reservations, good timing, and the favor of the camping gods. If you're not so favored, the sites directly across the access road are fairly shaded and are only steps away from the cool Kern River.
The remainder of the sites at Hospital Flats offer minimal shade. If you camp in late spring or early fall the heat shouldn't be a problem. When camping in summer, it's recommended you bring an awning or other cover to keep the midday sun off you and your camping area.
But, if you're like me, you'll spend most of your day in the cool, refreshing Kern River. The portion of Kern that runs by Hospital Flats offers great swimming, tubing -- there's a small beach across the river for sunbathing and the water is deep enough to provide a swimming hole. During my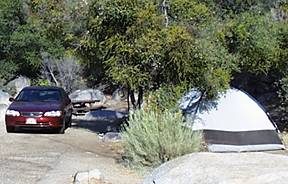 stay I saw kids dive off a small set of rocks adjacent to the beach. Be sure to double and triple check the water depth before diving as the water levels can vary depending on the time of the year.
You may see people tubing or rafting on the Kern. This can be a lot of fun but be very careful as this river can be quite swift and dangerous and many accidents can and do occur. You can rent tube in nearby Kernville.
The Kern River is one of my favorite Southern California camping spots and one that should not be missed. If you can't get a spot at Hospital Flats, there are numerous other campgrounds in the area that offer the same type of camping and river access.
The Facts
Hospital Flats Campground is 6.5 miles north of Kernville along Kern River via Mtn. 99 a paved road.
There are 40 family units and they accomodae RVs up to 30'. There are toilets and water but no hook-ups. Elevation 3,000 feet. Open May to Sept.
Supplies at nearby Kernville and Riverkern.