Frugal and Creative Packaging Tips for Homemade Gift Baskets. Save a bundle on gifts this holiday season by making them in your kitchen. Save a bundle on packaging with these innovative ideas.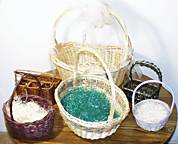 If you need too many gifts and have too little wallet, making homemade gifts in your kitchen is a thoughtful and frugal alternative. But the money you saved by cooking and baking your gifts can go right out the window if you pay retail prices for packing supplies like gift baskets, fancy jars and bottles, boxes, ribbons etc.
If you love to look for bargains or haunt swap meets, flea markets, thrift stores or even garage sales, you can save a bundle while still giving unique one-of-a-kind gifts for pennies. Follow the tips below. I'll share some of the items some friends and I picked up, along with the actual prices paid for them.
Finding fun, frugal packing supplies is like a treasure hunt, be creative, use your imagination, and have fun with the process. Almost anything can be turned into gift basket. For instance, I recently found a set of trays - the kind you serve breakfast in bed on - at a garage sale. They were never used and cost $4.00 for the pair. I filled each tray with some home baked tea breads, some coffees and teas, and some homemade pancake and muffin mixes, wrapped the trays in pink and blue cellophane with big ribbons and had a gift for a couple. Another time I found some stylish metal wastebaskets for $1.99 at a closeout store. I filled the new baskets with a small living Christmas trees along with some home baked goodies and decorated them with Christmas tree ornaments and ribbons.


Baskets are almost always easy to find at garage sales or thrift stores. None of the baskets in the photo cost us over $1.00. Most cost $0.50 or less. People, at least people in Los Angeles, practically give baskets away at garage sales. Some of the baskets we found still had cellophane, ribbon and packing material with them, all we needed to add were some homemade goodies and they were out the door.


Look for packing items throughout the year. You might find an awesome cookie jar for a few dollars at a flea market in July. Buy it and put it away for next holiday season when you can fill it with delicious homemade cookies and give it away. The middle of the summer is a great time to pick up ribbons and gift-wraps at garage sales for pennies on the dollar. People moving or cleaning out their closets tend to get rid of seasonal items in the off season. You can also pick up ornaments for the tree as well as the lawn and enough lighting to put to put a major drain on the neighborhood's electrical consumption should you ever decide to use it all (not that I'm suggesting you should).


Shop the week after Christmas sales and stock up on giftwrap, ribbons and packing supplies for the following year. Even expensive retail department stores practically give this stuff away after the big day is over.


Don't forget gift bags, those decorative shopping bags, are great containers for homemade gifts. Shop the after holiday sales and closeout shops to save big bucks on these handy items.


Look for interesting mugs, pitchers or coffee or teapots. These are perfect to pack with homemade drink mixes, cider or wine mulling spices, along with some homemade cake, brownie or cookie mixes. The vintage 50's ceramic pitcher above cost $4.00 at a garage sale while the moon pitcher was $7.00 at a flea market.


Thrift stores, flea markets and garage sales are great places to find interesting plates on which to package homemade cookies or candies. The two plates in the photo cost us $1.00 each, both are from the late 50s/early 60s. The black metal plate features beautiful tole painting and is in near perfect condition, the ceramic blue and white plate is a state souvenir of New Mexico. While many modern souvenir plates are not suitable for holding food because of the paints used, most of the vintage ones have the decoration under the glaze, making them functional as well as decorative.


Styrofoam or plastic cooler chests and insulated bags make great gift containers that let you give items that need to be refrigerated, as you can pack your goodies on ice. You can pick these items inexpensively at discount and drug stores. A white Styrofoam chest encased in bright red ribbons actually looks quite festive.


Cookie jars are a wonderful way to present homemade cookies. All of the cookie jars in the photo were bought at garage sales and none cost over $7.50. Two of them are vintage McCoy cookie jars that list in collector's books for over $100.00 a piece! Clean the jars well and fill with homemade cookies. Attach a big bow to the top and your gift is ready.


Closeout shops are wonderful places to find inexpensive and interesting boxes and packing supplies such as jars and bottles, silk flowers, even plates, cookie jars, mugs and pitchers, not to mention ribbons, gift bags and gift wrap.


If you have a paper shredder, you can easily make basket or gift bag filler material by shredding colored paper - for instance mix red and green papers for Christmas, pastel colors for a baby shower, etc.


Reynolds makes a wonderful line of colored plastic cling wrap in a variety of colors that are perfect for wrapping homemade gifts and baskets. Coupons for this product usually start appearing in newspapers this time of year (photo using these wraps at top of the page).