Halloween Makeup Instructions - Scary Skeleton Face. Professional makeup designer Richard Burnes shows with step-by-step photos how to make up this scary Halloween face.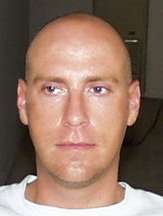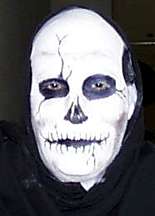 Note from Cheri:
With this gruesome make-up and a little costuming imagination, you're sure to be a Hallowen hit. Make-up designer Richard Burnes says one of the best things about this face is its versatility. The make-up can go with just about any clothing from a traditional skeleton costume to a suit, tie and top hat -- not to mention anything in between.
The bald cap will come in handy if you're trying to cover up your hair. True, our model Tim Holmes didn't really need it, but he was the only person willing to don the latex hat in the middle of the August heat when we shot this feature. For that we're greatful. If your subject has more hair than Tim, just take care to apply the spirit gum adhensive only to skin and not get any hair caught in it -- that would smart! It helps to gather the hair into a thin cap made from an clean nylon stocking before beginning.
You Will Need
latex bald cap (unless your subject is already bald)
spirit gum adhesive
spirit gum adhesive remover
clown white grease makeup
black grease paint make-up
make-up brush, such as a lipstick brush
make-up sponge
baby powder (Johnson's works well, avoid any powders with oils or moisturizers as this will ruin the make-up)
clean white sock (a child's sock will work fine, finer material is better than thick)
clean shaving brush or baby's hair brush
rubbing alcohol
Before Starting
Make sure your subject is clean shaven. It's also a good idea to put some alcohol on a cotton ball and go over the face and also the areas where the latex cap will be glued.
Fill the clean white sock with baby powder and tie a knot in the end. You'll be using this powder sock to set the makeup. Setting greasepaint make-up with powder will make it last and last. To remove the make-up when the evening is finished, use anything grease or oil based to instantly dissolve it -- cold cream, baby oil, etc. Use the spirit gum remover to get rid of any traces of adhesive after the fun is over.



Stretch the latex cap over the head. Starting in the front, roll back the edge and apply a thin coat of spirit gum adhesive to the edge of the cap and the areas of skin where it will be applied. Allow the spirit gum to set for a minute or so then press the cap down, trying to seal the edges, stretching the cap down to cover the ears and sealing underneath. Hold cap in place until adhesive dries and it is firmly in place -- about 3 minutes.



Continue the same process in the back, applying the spirit gum just below the natural hairline., press cap into place around entire head. Allow adhesive to dry, then carefully use scissors to cut off the excess latex, so cap fits snugly on head without any extra latex hanging off (not shown). Begin applying clown white grease paint to face and top of head, covering the seam of the cap.



Continue applying clown white until the entire face, tops and sides of head or bald cap and neck are covered with an opaque coating of make-up. At this point don't worry about the make-up looking even. Once it is applied you can even out the streaks by quickly and lightly tapping the face with your hand -- simply make lots of little pats over the entire area of the face and the coat of white will even out and look smooth. Now it's time to go outside (otherwise it makes a mess) and powder. Have your subject lightly close their eyes and hold their breath while you lightly tap the entire surface of the face with the filled powder sock. Take a shaving brush or baby's hairbrush and brush away the excess powder.



Now it's time to apply the features. Richard began by ringing the eyes in black, then adding a few "cracks" coming off them for effect. He used a similar technique on the nose to give it an aged look, making whispy lines to define the nose rather than a solid block of black. For the mouth, Richard outlined the natural lip line in back, then brought vertical lines out from that, creating a rather gruesome effect.


After all the black had been applied, it was time to go outside again for another coat of baby powder. Richard then took a very small amount of black on a make-up sponge and applied grey shadows to the face, especially in areas where he wanted to hide the seam of the skull cap and also to further hollow out Tim's cheeks. Adding the shadows isn't an exact science, just lightly smudge the make-up in the area of the desired effect. One more coating of powder and brush of the excess and Tim was ready to get into costume!