A Halloween Open House Party, as featured in Fabulous Foods, the net's favorite cooking community.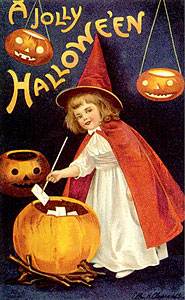 Throwing a holiday party does not need to be an overwhelming event. It can be as easy as opening the door to neighbors and inviting them in for a fast nibble. Here is a plan for a simple party that you can pull together in a matter of days. Use this design for your next party and you will see how effortless (and rewarding) entertaining can be.
THE MOTIVATION:
Halloween is the perfect opportunity for a neighborhood open house. Tired parents and over-sweetened kiddies need a break from door-to-door tricking. When the hobgoblins come to the door, in addition to sweet treats, offer a simple soup buffet.
THE BACKDROP:
You want to have as much fun at your party as your guests will. Besides, every good hostess knows that on Halloween her job is answering the front door to scary ghouls and ghosts just dying to frighten her to death! In order to be properly scared and throw a terrific party at the same time, choose a menu that allows you to prepare everything in advance.
The best party plan for serving guests who come and go is to utilize a buffet table. Each dish is prepared, arranged and then placed on the table in an organized fashion. For this simple party buffet, a variety of soups, a chopped veggie salad and several types of home-baked muffins are readily available so that guests can make their way to the table, nibble and move on.
Create a refreshment station next to the front door. Place pitchers on a table to hold fruit punch for the kids. Stack plenty of paper cups with a waste basket close by. Fill a huge barrel or aluminum tub with chilled libations for parents. Iced cold cans of beer and sodas and one or two bottles of good chardonnay are easily plucked from the container so that bartending services are unnecessary. Everyone can grab and go - no need for designated drivers when walking the neighborhood!
THE PLAN:
Offer at least two soup choices, a veggie salad with dressings on the side, one savory muffin and one sweet muffin. Place paper cups (the kind that are designed to hold hot drinks like coffee) and plastic spoons next to each covered soup tureen. You can also serve the soups from large pots or a crock pot. For this holiday - even a hollowed out pumpkin makes a great soup tureen.
Offer a huge wooden salad bowl filled with chilled lettuce and chopped cucumbers, carrots, blanched and chilled green beans, grape tomatoes and sliced radishes. Use several containers to hold a variety of salad dressings like balsamic vinaigrette, blue cheese with cilantro and creamy ranch. Sturdy throwaway paper plates or plastic bowls will work well next to the salad bowl. Place plastic forks nearby.
Heap aromatic muffins into cloth lined baskets and pile paper napkins close by. A huge tray filled with wrapped sugar cookies or fruit slices are the perfect dessert treat "to go."
THE MOOD:
Make sure that you allow your buffet table to blend into the "spirit" of the holiday. Use flickering jack-o-lanterns as a winking centerpiece. Choose several pumpkins of various sizes. Use a stencil or cookie cutter to create coordinated patterns on each one. For example you can cut out circle patterns on a large pumpkin, stars on a medium pumpkin and triangles on the third. Use metal cookie cutters to outline the pattern on a hollowed-out pumpkin by first pushing the cookie cutter into the outer hull. Then use a sharp pairing knife to cut through and push out the shape. For the really talented carver, ghost and black cat shapes can create a terrific jack-o-lantern. To illuminate the pumpkins place small, non-aromatic votive candles in holders. Place at least one votive candle holder inside each pumpkin to make refilling melted candles an easy task.
For an even spookier atmosphere fill containers with dry ice and let the wisps of vapor float from the corners of the room. (Make sure that tiny hands don't dip into the tubs.) Haunting tunes played from the scariest compact disks will howl and boohoo and crackle through each room. Remember to turn on the outside speakers to help draw in the guests.
THE MENU:
Choose at least two soups and balance your choice by complimenting a rich, smooth soup with a spicy chunky one. For example, velvety Swiss cheese soup or a classic curried pumpkin pairs nicely with either beef vegetable stew or lentil soup. Be sure to include condiments like fresh herbs, cheese or croutons that guest can add on themselves. The choice of soups should offer enough variety so that every age guest will find something that they like.
Similarly by serving both a sweet and a savory muffin each one compliments the soups differently.
SHORTCUTS:
This is a really simple party to throw - but even a simple party can be made simpler. Purchase fresh muffins or scones from a local pastry shop in place of baking your own. A bowl of candy bars will do fine as the on-the-run dessert. I absolutely draw the line at purchased soups. Making soup is good for the soul - so don't shortcut the process. However, feel free to purchase prepared chicken stock as a base for your favorite recipe. Likewise, a fresh salad deserves a fresh salad dressing, but you may substitute with good quality bottled dressings to save time. Just hide the bottle!

COUNTDOWN:
The week before, pick up the telephone and invite a few neighbors to drop by for refreshments during Halloween evening. Better yet - invite your good buddies to make your house the last stop of the night.
Three days before, purchase and carve the pumpkin centerpieces. Remember to keep carved pumpkins in a cool, dry area or purchase a preserving spray to use on the inside of a hollowed-out gourd.
Two days before, prepare both soups. Cover and refrigerate. Make cut out cookies in ghostly shapes and frost with orange, black and white frosting. When the frosting is set, place the cookies in individual plastic bags and tie with curly orange and black ribbons. Refrigerate.
One day before, bake the muffins and cut up veggies and lettuce for a toss salad. Store each vegetable in a separate bag to maintain freshness. Prepare salad dressings, cover and refrigerate.
The evening before set the buffet table and stock the libation station.
One hour before dark, reheat the soups, place the muffins in baskets, fill small pitchers with salad dressings and toss the salad.

There you have it. A simple plan for a terrific neighborhood party. Open your door, welcome friends and offer a tummy warming treat that is sure to calm even the scariest ghosts and goblins.
Recipe Suggestions
See the Related Recipes section below for recipe suggestions for this party.
---
Jorj Morgan is the author of "At Home in the Kitchen: The Art of Preparing the Foods you Love to Eat." For more easy-to-make, step by step recipes visit her website at www.jorj.com.