Easy to Make Halloween Cakes and Cupcakes. Here are 10 simple to decorate cake and cupcake projects for Halloween, perfect for parties and kid's celebrations.
All of the delicious Halloween treats below are easy to make -- some would even make terrific family or group projects. They sell well at charity bake sales and never cease to delight lucky gift recipients. For directions on how to make the treats, just click on the links below. If you're new to cake decorating,
click here first for some basic instructions.
1.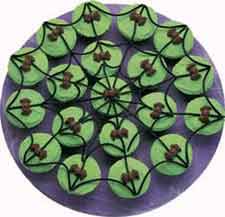 2.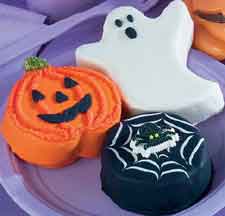 1. Spider Web Cupcake Platter -- Bake and frost your favorite cupcakes, put them on a plate or foiled covered cardboard and using black licorice, weave up the best spider web!
2. Halloween Mini-Cakes -- Photo and how-to directions from a sheet cake, use cookie cutters... easier than making individual cakes.
3.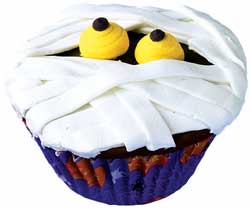 4.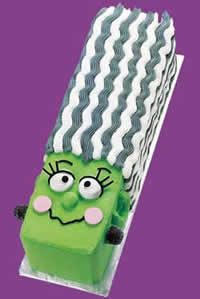 3. Yummy Mummy Cupcakes -- Photo and how-to directions to make a cupcake look like an oh so cute wrapped mummy -- a kid friendly project.
4. Bride of Frankenstein Cake -- An ooh, aah cake that is so easy to decorate.
5.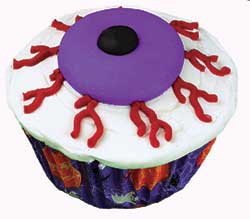 6.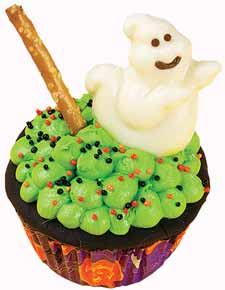 5. Eyeball Cupcake -- This one's a site for sore eyes.
6. Boiling Cauldron Cupcakes -- Bubble, bubble, toil and trouble!
7.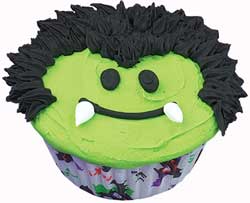 8.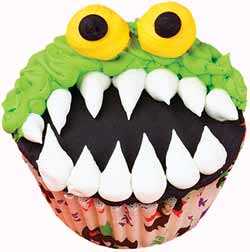 7. Vampire Cupcakes -- Fang-tastic.
8. Monster Cupcakes -- These have serious teeth!
9.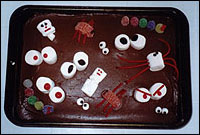 10.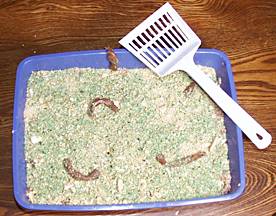 9. Goofy, Spooky Cake -- Super simple to make.
10. The Infamous Kitty Litter Cake -- Bake it if you dare!