Gas or Propane Grill Cleaning and Maintenance. Tips for keeping propane grills clean and well maintained so you;re always ready for a cookout.
Below are some good general guidelines for keep propane grills clean and well maintained. Before following these tips, check to make sure that your grill doesn't have any special coatings or paint that might get damaged by abrasive cleaning (in other words, check your grill's instructions for special situations, before cleaning).
You Will Need These Cleaning Supplies:
Brass or stainless steel wire grill brush
Soap-embedded, fine steel wool pads (0 to 000 grade)
Mild dish soap
Sponge or dishrag
Foil or other liner for the drip pan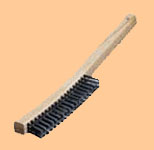 Each Time You Grill:
Clean the Grill Grate - Before grilling (or immediately after grilling if you want to get ready for next time), burn off food residue by turning the grill on high until the smoke stops, then use a wire grill brush to brush the cooking grates clean.
Clean As Necessary:
Clean and/or Replace the Drip Pan -- Different brands of grills have different drip pan situations, so check the instructions that came with your grill. Regularly changing the drip pan or liner discourages critters from dining on your grill's refuse.
Remove Smoke Stains -- You can remove smoke stains from most grill lids with a soapy, fine steel wool pad and a light touch. Keep in mind that even fine steel wool will scratch stainless, steel, so a soapy sponge or dishrag is best for stainless steel surfaces.
Clean the Bottom Tray -- Again, different grills have different bottom try situations, so consult your grill's instructions. Remove the cool (never hot!) bottom tray from under the grill and place over a trash can. Use a putty knife or other flat object to scrape the inside, pushing the the residue out into the trash can. You can use warm, soapy water and a rag and/or soapy wool pad to clean the tray. NEVER line the bottom tray with foil, as grease can accumulate in the creases of the foil and cause a grease fire.
Important Tip:
Oven cleaner can sometimes be handy when cleaning really tough, baked on dirty grill grates, but keep in mind that oven cleaner is not friendly to painted surfaces, so if your grill has an enamel coating on the outside (or inside) or grill grates keep the oven cleaner away.