Visiting the Konriko Rice Plant in New Iberia, Louisiana, Amrica's oldest operating rice mill in New Iberia, Louisiana. The mill looks pretty much it did in yesteryear. Includes Cajun rice recipes.
NEW IBERIA , LOUISIANA, USA -- Rice is an important staple of many of the world's cuisines. Beyond global considerations, you'll also find rice playing major roll in US regional cuisines -- most notably Cajun. We couldn't have red beans and rice without rice, and gumbo just wouldn't be the same without the addition of rice. There would be no boudin sausage, or jambalaya, and a host of other classic Cajun dishes would suffer. So it's not surprising that the country's oldest operating rice mill is located in the heart of Cajun Country in New Iberia, Louisiana.
Since 1912, the Conrad Rice mill has been making long and medium grain rice under the brand name of Konriko. Visitors to New Iberia can get a first hand look at the fascinating process that goes into producing this important food.
Crawfish and Rice -- A Symbiotic Relationship
It takes about 120 days for rice to be ready for harvest, which generally happens in July and August. The areas surrounding New Iberia are filled with wet rice paddies that can produce two crops per season. Nonetheless, many growers will forego the second harvest in favor of turning the paddy into a temporary crawfish farm -- another of this region's culinary staples. The crawfish naturally grow and thrive in the rice paddies, all a grower need do is leave the paddy alone then harvest the "mudbugs" when the time is right. Turns out that rice and crawfish have a symbiotic relationship that goes far beyond how well they pair together on your dinner plate.
Milling Rice
The Conrad Rice Mill looks pretty much the same way it did when it began operations in 1914, (it entered the the National Register of Historic Places in 1981), although at that time it only operated three to four months a year. The mill received significant additions in 1917 and 1930 and is a rare surviving example of a factory using a belt-drive power transmission.
Upon delivery to the mill, rice goes into a hopper then into a sheller/huller machine After a spell in the hopper machine it has become healthy, fiber-rich brown rice ready for consumer's table.
For white rice, the grains continue their journey through a pearler machine. This rubs the rice bran entirely off. After this the rice passes through a grader machine. Rice is graded by the amount of broken grains - less broken grains equals a better grade of rice. Since Konriko sells only Fancy and Extra Fancy grades, they sell their broken rice for chicken feed. Nothing is wasted as even the discarded bran from white rice is sold for livestock feed and bedding.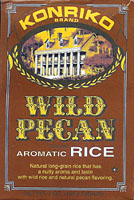 Konriko Wild Pecan Rice
If you think rice is rice, and there's not much difference from one variety to the next, you should rethink that philosophy. There's no better rice to get you to do just that than Konriko's Wild Pecan Rice. While there are no actual pecans in this quick cooking brown rice, it nonetheless imparts a distinctly nutty pecan flavor. As it retains 90% of the bran, this tasty brown rice is a healthier alternative to white rice. We loved it so much, I now return from trips to the South laden with heavy suitcases packed with rice. No other variety I have tried comes close to the wonderful nutty flavor and delightfully al dente texture of Konriko's Wild Pecan Rice (yes they are the exclusive producers of this unique and flavorful rice). If you can't get to the South where it is sold in most grocery stores, or if your grocery store doesn't carry it, the Konriko store will mail order their products.

Recipes from Konriko
Present Konriko owner Mike Davis shared some of his favorite recipes for ways to to use Konriko rice with us. See the related recipes section below for links and start cooking up some wonderful rice dishes.
---
Practicalities
Public tours of the Conrad Rice Mill are offered Monday through Saturday - although they are closed some holidays, and things change, so it's always a good idea to call in advance. Ditto for the Konriko store next door where you can purchase Konriko products, a host of other popular Cajun foods and spices, and gift items. Here you can also see an informative, albeit embarrassingly and politically incorrectly dated slide show of the entire rice making process, from planting to harvest.
The Conrad Rice Mill and Konriko Store are located at 307 Ann Street in New Iberia, Louisiana, 70562-0640. For more information call (337) 364-7242 or visit www.conradricemill.com.