Trim and Terrific Trimmings for the Holiday Meal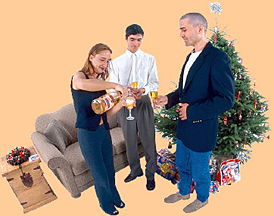 (Recipe Links at End of Article)
The holiday season is the time of year to open your heart and home to friends and family. When I think of holiday entertaining, three words come to mind: food, family and fun. With the focus on food, my approach to the holiday meal is to honor the eagerly anticipated traditional family foods that appear yearly. The key is to have fun and zest up your holiday by taking advantage of the bountiful seasonal ingredients and highlighting them in different ways. Of course, most importantly, you want to keep preparation time minimal to have more time toasting and hosting. With my Trim & Terrific approach to a holiday meal, you can enjoy the holiday meal without guilt. The typical menu features the turkey as center stage with stuffing, sweet potatoes, and desserts not far behind. When I am planning my holiday menu, my emphasis is on appetizer to dessert as I feel these trimmings give the holiday meal flair.
While family and friends are gathering, try offering a light dip with chips or crackers. Prepare Fiesta Salsa, a spirited holiday dip, beaming of reds and greens to satisfy everyone while the final preparations to the holiday meal are made. This colorful dip boasts avocado, tomatoes, and corn making a tasty nutritious beginning. By serving an appetizer, the familiar question of, "when is it going to be ready?" can be avoided.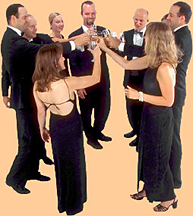 If you are serving buffet style, have a pot of Wild Rice Soup simmering on the stove with mugs to serve yourself. Everyone can grab a cup of soup on their own time frame whether it is before, during, or after the meal. On a cold day, there is nothing more warming than a hearty cup of hot soup.
Now, what we have all been waiting for, the main meal. My focus is not on the turkey because usually a grandmother, great aunt, or mother has her secret method of preparing the turkey. The popular side dishes compete with each other for prime placement on the table. Whether dressing or stuffing is your preference, my Corn Bread Dressing will tempt the most sophisticated palate. Corn Bread combined with sautéed seasonings and sausage make this a yearly favorite.
I always look for sweet Louisiana yams to prepare my Sweet Potato Casserole with Praline Topping, the crumbly brown sugar topping steals the show. Sweet potatoes have been touted as the most nutritious vegetable so this dish is packed with flavor and nutrition.
Cheesy Spicy Spinach is a wonderful velvety rich vegetable dish that is reminiscent of the popular spinach dip all ages adore. Make these recipes ahead of time and refrigerate until ready to cook. Leave out at room temperature before baking.
Even overstuffed, there is always room for dessert. A personal favorite of mine is the Sweet Potato Cheesecake. With a spiced crust and a incredibly rich yam filling, this indulgent treat will be high on the request list.
A great make ahead dessert for the time conscious person, Trifles make a wonderful presentation and serve a crowd. The Fantastic Trifle will be an attraction that wins rave reviews. Angel food cake, English toffee and chocolate sauce layered with bananas and whipped topping make this an easy-to-make spectacular creation to include in your dessert selection.
Entertaining for the holidays is easy and approachable with these simple recipes. Food, family and fun depicts the holiday season in three simple words. If you are a busy person who has limited cooking time, you will enjoy all these Trim & Terrific recipes that are prepared from a healthier approach but without sacrificing all your traditional favorites.
These recipes are taken from my new book, The Holly Clegg Trim & Terrific Cookbook: Over 500 Fast, Easy & Healthy Recipes, and all the recipes have the nutritional analysis and diabetic exchanges. And if you have a question about a cooking term, an ingredient, or what to stock in your pantry, the Back To Basics section in the book answers all your cooking needs. Have a wonderful holiday and it has been fun sharing my holiday with you!
For even more from Holly, click here to visit www.HollyClegg.com.
HollyClegg is author of the best selling Trim & Terrific cookbook series including her latest The New Holly Clegg Trim & Terrific Cookbook. She appears on Fox & Friends, the NBC Weekend Today Show and her recipes have been featured in Cooking Light, USA Today and People Magazine. For more recipes visit, www.hollyclegg.com.
Click here for more great recipes and information about The New Holly Clegg Trim & Terrific Cookbook (Trim and Terrific) and discount ordering through Amazon.com