Watermelon Carving 101 plus fabulous carved watermelon designs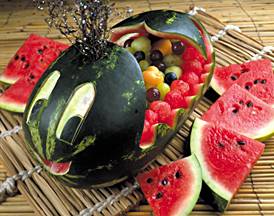 When your mother told you don't play with your food, she didn't know about these show-stopping sculptures that anyone can make with fresh, delicious watermelon.
Created by Chef Harvey Rosen, author of the most comprehensive series of garnishing books ever compiled, these simple sculptures make it fun and easy to carve watermelons into fabulous centerpieces that everyone will admire. You'll want to try them all ... and even create your own variations.


Why carve a watermelon?
You can celebrate almost any event with the fun, easy, delicious treat of a beautiful watermelon carving filled with fresh fruit! Birthday, anniversary, shower, holiday or whatever the occasion, one of these watermelon carvings can make it a celebration!
Follow our easy directions and have fun making watermelon masterpieces that you'll want to share again and again.
Need Garnishing Tools?
Click for Amazon.com's selection.


Watermelon Carving Instructions & Patterns