Hamburgers -- Cooking Tips and Recipes. Click for creative hamburger topping and mix in ideas, along with recipes for the perfect burger side dish -- French fries.
The quintessential all-American dish. The hamburger is also one of our most personal dishes. Everyone has their own special version of what constitute the perfect burger. FabulousFoods.com has lots of recipes ideas for terrific burgers. Most will work whether you're having a backyard barbecue or grilling a quick dinner on the stove. The ideas here will also work for ground turkey, chicken or pork, as well as beef.
Creative Burger Toppings
Everyone has their idea of the perfect burger. Here are some of our favorite topping combos:
The all-American -- tomato, lettuce and onion with 1000 Island dressing
Guacamole, bacon and Swiss cheese
Teriyaki sauce and grilled pineapple
Sautéed mushrooms and onions with Swiss cheese
Barbecue Sauce and onion rings
Wine sautéed mushrooms, sour cream and minced green onions
Chili and cheddar cheese with chopped raw onion
Feta cheese, kalamata olives and spicy yogurt sauce
Green chiles, jalapeños and salsa, (bacon optional)
Marinara sauce and provolone cheese
Sauerkraut, grilled onions and melted Swiss cheese

Burger Meat Mix-ins

Why just have flavor
on
your burger when you can have flavor
in
your burger. Mix raw meat with your choice of mix-ins hours ahead of time and refrigerate until ready to cook for the best flavor. Grilling is best, in my opinion, especially over an open fire. You'll probably come up with your own mix-ins other than the suggestions on this list. Mix ground meat with your choice of add-ins, shape into patties and grill or broil as usual. Serve on a bun with favorite toppings or use ground sirloin and serve on a plate like a steak dinner.

Mix and Match Burger Mix-Ins
minced garlic
minced onion
minced bell pepper
minced jalapeno peppers
minced mild green chiles
minced olives
grated Parmesan cheese
raw egg
mixed fresh chopped herbs like basil, parsley, cilantro or dill
seasoned breadcrumbs
soy sauce
Worcestershire sauce
barbecue sauce
Don't Forget the Fries!
The perfect side dish for burgers -- check out these recipes: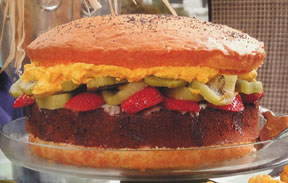 Burger Novelty Cake
Take the burger theme all the way to the dessert table with
Holly Clegg's
easy to make, innovative cake -- the perfect finale to summer cookouts!