In this tasty recipe roundup, we're featuring one of our favorite ingredients, the rhubarb, and whipping up some delicious, healthy and light diabetic friendly recipes.
When choosing rhubarb, select firm and tender stalks -- avoid those that are very thick or wilted. Rhubarb is perhaps best known for its use in pies and tarts, and is often paired with strawberries, however, that's not all it can be used for! Try some of our rhubarb combinations and then dare to be creative with your own low-fat versions!
Mini strawberry rhubarb pies
Yields about 8 pies
Ingredients: 
For the filling: 
1/4 cup finely chopped strawberries
1/4 cup finely chopped rhubarb
1/2 tablespoon cornstarch
2 tablespoons sugar or sugar substitute
1 tablespoon lemon juice
For the crust: 
1 cup plus 1 tablespoon all-purpose flour
Dash of salt
1 tablespoon brown sugar
1 teaspoon lemon juice
6 tablespoons butter, cut into pieces
2 tablespoons ice water
Dash of cinnamon or pumpkin pie spice
1 egg yolk
Directions: 
Preheat your oven to 375 degrees F. Line a baking sheet with parchment paper. Mix the strawberries, rhubarb, lemon juice, sugar and cornstarch together in a small bowl. Set it aside.
To make the crust: Mix the flour, salt, brown sugar and cinnamon together in a medium size mixing bowl. Using a pastry cutter, cut into the butter until the mixture is coarse and crumbly. Drizzle with ice water and lemon juice until the mixture is just moistened.
Knead the dough a little in the bowl then divide in half, covering one half with plastic wrap. Place the other half of the dough on a floured surface. Roll the dough out to about a 1/8-inch thick. Then, using a circular cookie cutter, cut out dough circles. Place on the parchment lined baking sheet. Spoon about 1 teaspoon or so of the filling on top of each little pie crust. (Careful not to over-fill or the filling will ooze out of the crust.)
Repeat the rolling process with the second batch of dough. Cut out enough circles to top the dough on the parchment paper.
Moisten the outside of the dough on the baking sheet. Place the matching dough circles on top, squishing the ends together with your fingers. Then, using a fork, make indentations around the edges to keep the filling from spilling out.
Once the pies have been made, poke holes into the top of the dough to allow it to breathe. Then, brush the tops with egg white and freeze for about 10 minutes.
After pies have frozen, bake for 22 – 25 minutes, or until golden brown.
Rhubarb iced tea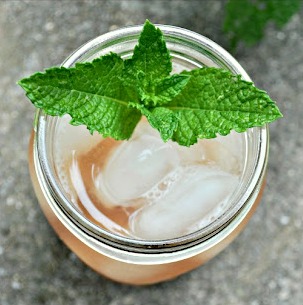 Yields 2 quarts. Recipe and photo provided by Dabblings and Whimsey.
Ingredients: 
8-10 stalks of rhubarb, cut into 1-inch pieces
8 cups of water, divided
Mint sprigs
5 bags of Lipton tea
Juice of 1 lemon
1 cup of sugar or sugar substitute (you can also use half sugar and half sugar substitute)
Directions:
Put the rhubarb into a saucepan with 4 cups of water. Bring to a simmer, cover, and allow the rhubarb to stew for 30 minutes. After 30 minutes, turn off the heat. Add in the mint and the tea bags, cover and steep for 30 minutes.
After the tea has steeped, strain the tea through a fine-mesh strainer. Press out any extra tea with a spoon.
Put the lemon juice and the sugar into a pitcher. Pour the tea into the pitcher and stir until all the sugar has melted. Add in the other 4 cups of water. You may find the tea a bit strong. If so, add in another cup or two of water.
Allow to chill in the refrigerator.
Serve over ice.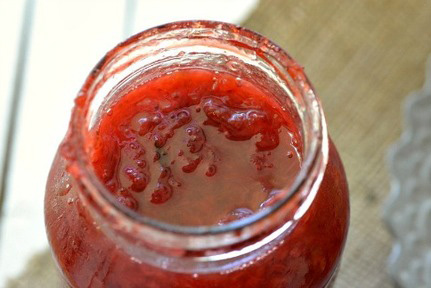 Low-sugar strawberry rhubarb jam
Yields about 3.5 pints
Ingredients:
1-1/2 pounds fresh strawberries, chopped (with tops removed)
1-1/2 pounds rhubarb, diced
About 1-1/2 cups sugar or sugar substitute
1/4 cup lemon juice
For the instructions on how to make this delicious jam, check out the recipe here on Fabulous Foods!
More diabetic friendly recipes
Diabetic friendly Easter recipes
Diabetic cooking: Cherry recipes
Healthy carbs for diabetics
Important recipe note: We do use small amounts of refined sugar per serving in our recipes, which is in keeping with the revised guidelines for people with diabetes, issued by the American Diabetes Association Committee On Nutrition in 1994. We strongly urge that you check with your physician, health care team, primary diabetes health care provider, or registered dietitian or nutritionist on how to incorporate our recipes, or any recipes from our cookbook reviews, into your daily meal plan. Recipes with refined sugar may not be suitable for all diabetics. Your blood sugars should be under control and your daily meal plan must include the carbohydrate allowances per serving for each recipe containing refined sugar.