Profile of Marcelle Bienvenu With Authentic Cajun Recipes. We sat down with the Queen of Cajun cooking for her thoughts on the food that made her famous, growing up in Cajun county, and much more.
Marcelle Bienvenu knows Cajun cuisine intimately well. She was born and raised on the Bayou Teche in St. Martinville, Louisiana, a place she still calls home today. Her lineage traces back to the first Acadian exiles who arrived in Louisiana in 1755 from New Brunswick.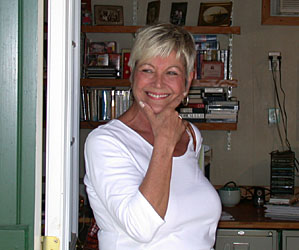 Marcelle grew up in a household centered around food, cooking, and writing. Her grandfather started St. Martinville's first newspaper in 1886. The entire family cooked and Cajun social life always centered around food.
The petite chef with the engaging smile maintains that she never intended to be in the food business. Fate intervened and soon after graduating from the University of Southwestern Louisiana she was offered an opportunity to work as a contributor to the Acadian-Creole foods edition of the the Time-Life Foods of the World series. That lead to an illustrious gastronomical career that includes stints at Commander's Palace, Brennan's, and other top New Orleans restaurants; owning her own restaurant in Lafayette (Chez Marcelle); authoring books on her own and with culinary superstar Emeril Lagasse and friends Carl and Ryan Brasseaux; and penning a popular column, Cooking Creole, for the New Orleans Times Picayune. She's still at work on her TImes Picayune column today, trying to fill requests from readers who lost their favorite recipes during Hurricane Katrina.
While she grew up with Cajun cuisine, Marcelle says that up until the 1970's, the general public didn't know what Cajun food was. "Sure, everyone knew about New Orleans, but nobody knew about country cooking," she says. "Paul Prudhomme put Cajun food on the map. At least his version of it -- he took a little bit of the country and brought it to the city."
It is this distinction, she says, that makes up the mysterious differentiation between Cajun and Creole cuisines. Cajun equals country, Creole equals city -- at least in general terms. But the lines can and, more often than not, do blur. No wonder the public is confused!
To make the subject even more complex, there are distinct styles within the range of Cajun cuisine. For instance the foods eaten by prairie settlers -- mainly chicken and pork, -- differ greatly from those who live closer to the seafood rich bayous and Gulf coast. Despite regional differences, both camps are comprised of country food that's frugal and makes good use of every bit of its ingredients, right down to the bone.
In fact, Dickie Breaux, owner of Café des Amis in Breaux Bridge, and an avid cook himself, proclaims "Cajun Cooking is all about the bones! The bones are what give dishes their flavor!"
Marcelle Bienvenu concurs. Soups, stews, jambalayas, etouffes and other classic Cajun dishes are almost always cooked with the meat on the bone -- or in the shell as the case may be.
Another integral part of Cajun cuisine is the roux -- a mixture of cooked flour and fats that is used as a thickening agent. Much has been made of how to make a proper roux, and in fact, your roux making skills can affect your social status in Cajun culture (as evidenced by the title of Marcelle's book Who's Your Momma, Are You Catholic, and Can You Make a Roux?).
Since rouxs are such an important part of Creole cuisine, Marcelle agreed to teach our readers her foolproof method for creating a perfect roux. She also shared her recipes for the Cajun classics Chicken and Sausage Gumbo, Jambalaya, and Crawfish Etouffée (almost sounds like a Hank Williams song).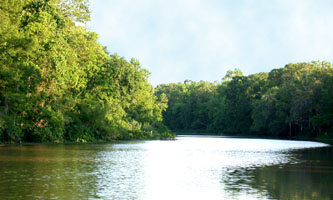 Cooking with Marcelle in her own kitchen on the Bayou Teche showed the woman's inventiveness and resourcefulness. The kitchen is so tiny, it's barely big enough for one, yet she squeezed in a group of hungry food writers and managed to teach us the basics of Cajun cuisine in an afternoon, before sending us all off on a cruise of the Bayou Teche with husband Rock.
We returned to a magical outdoor setting of candle lit tables set on the lush lawn that gently sloped to the water's edge. The Louisiana moon silhouetted ancient Spanish Moss draped trees against the Bayou Teche and the indigo night sky. The feast Marcelle prepared in her tiny kitchen now covered the tables, its tempting scent reminding us how hungry we were.
All too soon it was over and it was time to leave the enchanted setting of Marcelle and Rock's beautiful back yard on the Bayou Teche. Although we had much to look s forward to. For the next few days Marcelle would be taking us to all her favorite Layfayette area restaurants. Find details in our travel feature,
Falling in Love with Lafayette.